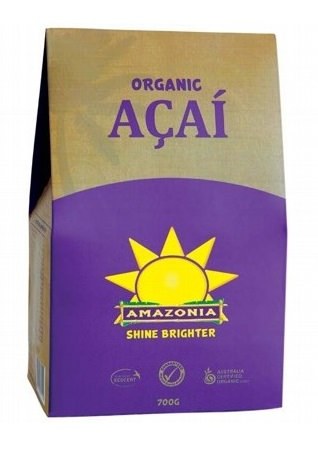 Amazonia
Amazonia Acai Powder 700g
$109.00
$122.00
you save $13.00
Organic Freeze Dried Acai (Purpleberry) Powder in 700g pack.
Imagine a place deep in the Amazon rainforest a raw, naturally entwisted organic ecosystem where soils are rich in dark organic nutrients and elements. A place untouched by pesticides or pollution. Our Açaí palm is growing in this place, peacefully along the banks of the Amazon River. This resilient Acai tree grows in abundance covering over 6.1 million acres of land through out the Amazon. It's from these wild growing Açaí trees we hand select and capture the natural essence of the berry in every tub of Amazonia Acai.
Amazonia Acai is Freeze Dried at –40 Degrees Celsius for maximum nutrient retention, using our premium grade Açaí pulp.
2 x 3 gram heaped teaspoons daily

Tastes like a blend of chocolate and berries

Comes with our purest and most potent GUARANTEE

Completely Natural whole food

GMO Free, Gluten Free, Wild Harvested, Raw, Vegan, Halal and Fair trade

Certified Organic Acai
Amazing health benefits are packed into this amazing purple berry:
Vitamins A, C, D, E & B-1, 2, 3, 6 and 12

Over 17 vital minerals including ZINC, PROTIEN, IRON, CALCIUM, IDODINE, SELENIUN, MAGNESIUM, FOLIC ACID

Great source of DIETARY FIBRE!

THE RICHEST KNOWN source of Anthocyanins

Over 20 essential and non essential amino acids

Complete essential fatty acid complex with omegas 3, 6 & 9

Low GI (glycemic index), due to very little natural sugar

Over 16 types of antioxidants!

Over 4 times the antioxidant concentration of Goji Berries

Over 42 times the antioxidant concentration of Blueberries

Over 101 the antioxidant concentration of Red Grapes

ALL 100% NATURAL and completely ORGANIC occurring nutrients
Ingredients: Freeze dried organic Açaí berries (crushed up berries), natural citric acid. NO PRESERVATIVES OR ARTIFICIAL ADDITIVES.
Key Benefits:
Certified Organic

GMO Free

Gluten Free

Dairy Free

Suitable for Vegetarians &

Vegans

Fair Trade