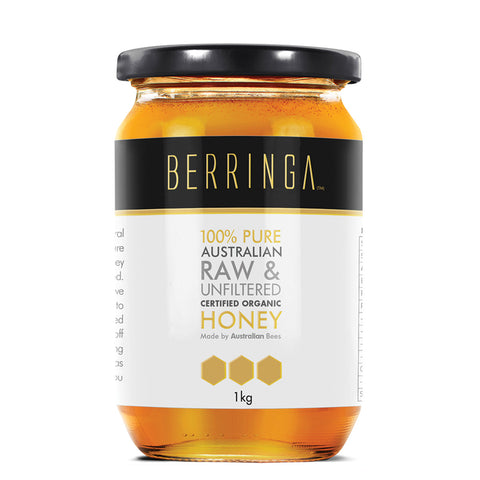 Berringa
Berringa Raw Organic Unfiltered Honey 1kg
$21.00
$24.00
you save $3.00
Only sourced from Australian beekeepers, Berringa's Eucalyptus is Raw Single Filtered, Cold Extracted Honey, which means minimal processing and better taste.
Guaranteed to be Australian Certified Organic (ACO), you can be sure of the purity and superior quality of our honey. Golden in colour with a delicate, sweet taste, Berringa Eucalyptus is an ideal natural sweetener and a tasty addition to toast and porridge.

If you haven't tasted Berringa Eucalyptus Honey, you really should give it a try!
Ingredients:
100% Raw Certified organic Australian Eucalyptus Honey

Pure, natural honey may vary in colour and texture.
Some crystallisation may occur naturally.
Key Benefits:
Certified Organic by ACO
Dairy Free
Gluten Free
Sulphate Free
Suitable for Vegetarians