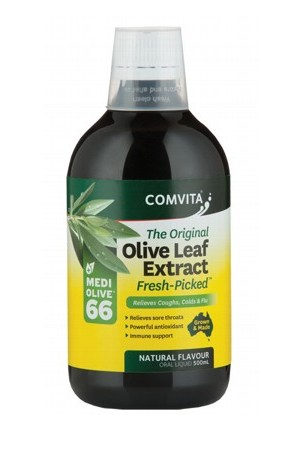 Olive Leaf Australia
Comvita Olive Leaf Extract Natural 500ml
$28.00
$30.00
you save $2.00
Olive Leaf Australia Olive Leaf Extract Natural Flavour Olive leaves have been used widely in the traditional remedies of many nations, including for fever relief. They also help to maintain a healthy cardiovascular system and normal heart function. The liquid extract in this bottle contains a range of very powerful cell-protecting antioxidants and is made directly from fresh-picked olive leaves. It's for busy who need and deserve good health to meet every day's demands.
Why take Olive Leaf Australia's Extract?
The unique fresh leaf extract is a natural, multi-use tonic suitable for the whole family. It has 400% more antioxidant power than Vitamin C. Research and testimonials have demonstrated its effectiveness in helping to maintain a healthy cardiovascular system and it also assists in the maintenance of normal heart function. Used traditionally to help relieve fever, many people also take it during the winter months.
Helpful Hints:
You may use the extract straight, mixed with fruit juice, or by adding it to your food. It can be beneficial for certain conditions to swill liquid in mouth for five seconds prior to swallowing. Natural Multi-Use Fast Acting Made directly from fresh leaves Broad spectrum actives - just as nature intended.
Key Benefits:
GMO Free

400% more Antioxidant power than Vitamin C

No Reconstituted powders

No Artificially boosted Oleuropein

No Alcohol or Artificial Preservatives

Suitable for Vegetarians
Not Certified Organic