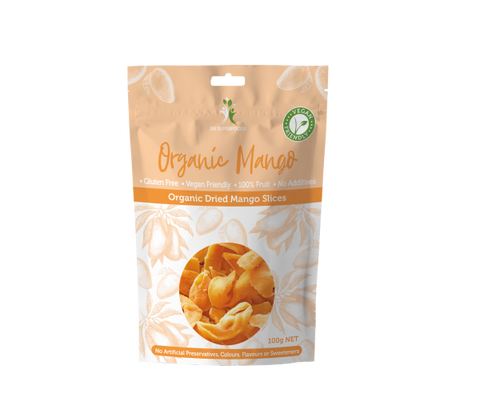 Dr Superfoods
Dr Superfoods Organic Dried Mango 100g
$8.00
$9.00
you save $1.00
In stock with supplier- ships within 5-7 business days
Dr Superfoods has searched the world for natural fruits rich in antioxidants which are essential for good health and vitality. Dried fruits typically contain higher levels of antioxidants and nutrients then highly processed fruit powders, juices and extracts.
Try our delicious certified organic, sun-dried mango. It has a nice tasting mango flavour, unlike the bland tasting organic dried mango from Ecuador or Sri Lanka. It is a bit chewy but it is full of fibre and goodness. Australian organic dried mango costs upwards of $70 per kg. While we do support Australian grown products, we think this is way over-priced. This organic mango from Thailand tastes great and is reasonably priced.
Ingredients:
Dried certified organic mango.
Key Benefits:
Certified Organic

GMO Free

Raw

Gluten Free

Dairy Free

Suitable of Vegetarian & Vegans