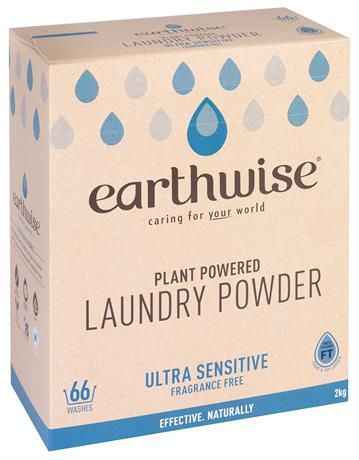 Earthwise
Earthwise Laundry Powder Fragrance Free 2kg
Ultra Sensitive Laundry Powder is tough on stains, but it has no added fragrances so it's incredibly gentle on you and your family. Our low suds formula is suitable for sensitive skin types and is naturally effective without the use of harsh chemicals. It's also biodegradable, grey water and septic tank safe.
Directions:
For a normal top loader wash add 1 scoop (25ml) to a 5.5kg load. For front loaders use 1/2 scoop (13ml), and for heavily soiled garments or hard water use 2 scoops (50ml). For hand washing, dissolve 1/2 scoop (13ml) in 5L of water - soak for an hour, or overnight for tough stains. Suitable for use with hot or cold water.
Always read and follow machine and garment washing instructions. Wash colours separately; always check for colour fastness by soaking a hidden part of garment. Do not use for delicates or woollens.

Grey water and septic tank safe, with biodegradable surfactants - a gentler choice for you and the environment.
 Be energy and water smart: wash full loads, use cold water, and dry washing on the line.
Ingredients:

Sodium Carbonate (Washing Soda), Sodium Sulfate, Sodium Carbonate Peroxide (Oxygen Whitener and Brightener), Sodium Bicarbonate (Baking Soda), Sodium Citrate (Chelating Agent from Citrus), Sodium Silicate (Mineral Salts), Sodium Coco Sulfate (Plant Based Surfactant), Polyoxyalkylene Alkylether.
Key Benefits:
Eco Friendly

Family & Household Safe

Phosphate Free

Nitrate Free

Chlorine Free

Ammonia Free

Sulphate Free

Suitable for Vegetarians & Vegans