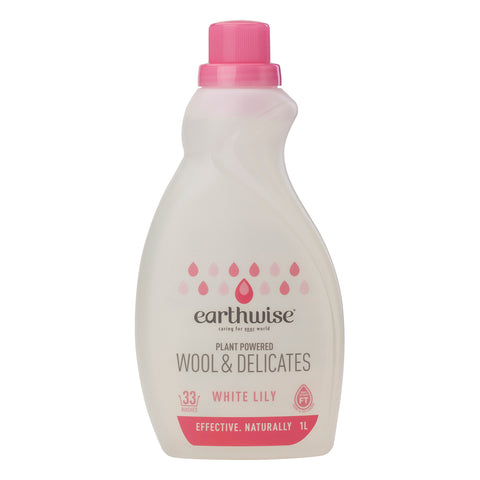 Earthwise
Earthwise Wool & Delicates White Lily 1L
Earthwise White Lily Wool & Delicates Liquid is a gentle plant based formulation suitable for the washing machine or for hand washing. It will leave woollens, lingerie and lace clean and soft as it's gentle on delicate garment fibres and mild on your hands. It's grey water and septic tank safe, and contains biodegradable surfactants.
Directions:
Do not pour directly onto garments, use the machine dispenser. For hand washing, premix, then wash or soak as required. For stubborn stains treat with Earthwise Fabric Stain Remover, then wash as usual. Always read garment and machine washing instructions. Wash colours separately.
For a standard 5.5kg top loader wash, add 1 capful (30ml) to your washing machine's dispensing unit and set to the correct cycle for woollens / delicates. For front loaders, use 1/2 capful (15ml). For hand washing mix 1/2 capful (15ml) per 5L water, gently wash garments, then rinse well. Suitable for cold or warm water use.
All products have an effect on the environment. Always use the correct dose for maximum efficiency and minimum environmental impact. Be energy and water smart: wash full loads, use cold water, and dry washing on the line. Always read and follow garment and machine washing instructions. Wash colours separately; always check for colour fastness by soaking a hidden part of garment. Do not pour product directly onto fabric.
Ingredients:
Aqua (Water), Sodium Sulphate, Sodium Lauryl Ether Sulphate (Plant Derived Surfactant), Glycerin, Sodium Citrate (Chelating Agent from Citrus), Sodium Carbonate (Washing Soda), Coco Glucoside (Plant Derived Surfactant), Sodium Metasilicate (Corrosion Inhibitor), Citric Acid (Naturally Fermented pH Adjuster), Sodium Hydroxymethylglycinate (Preservative), Parfum (Fragrance).
Key Benefits:
Eco Friendly

Family & Household Safe

Phosphate Free

Nitrate Free

Chlorine Free

Ammonia Free

Suitable for Vegetarians & Vegans