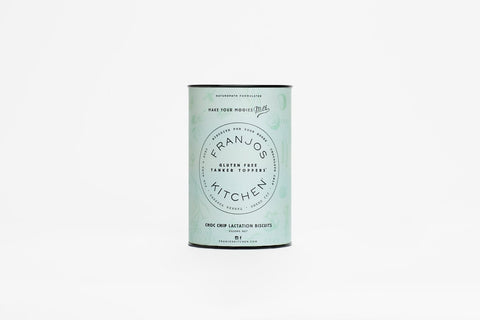 Franjo's Kitchen
Franjo's Kitchen Lactation Biscuits Choc Chip Gluten Free 250g
Franjo's Lactation biscuits are not only delicious but full of natural ingredients that help to increase milk supply and load you & your baby up with vitamins, minerals & good fats during this time.
This gluten free formula by naturopath Jo,  has specifically included ingredients in these lactation cookies to help breastfeeding mums.
Key 'galactogogues' ingredients are gluten free brewers yeast, flaxseed meal and organic rolled quinoa flakes. Each have their own reputation to boost breast milk supply.
14 biscuits per tin
Ingredients:
Gluten Free Flour Mix ( Organic Buckwheat, Teff) Organic Coconut Oil, Organic Coconut Sugar, Organic Maple Syrup, Organic Shredded Coconut, Choc Chips (9%), Organic Quinoa Flakes, Seeds (Flaxseed Meal, Chia), Gluten Free Brewer's Yeast, Raising Agent (Bicarbonate of Soda), Water Added.

Wheat free, Dairy free, egg free & no refined sugar