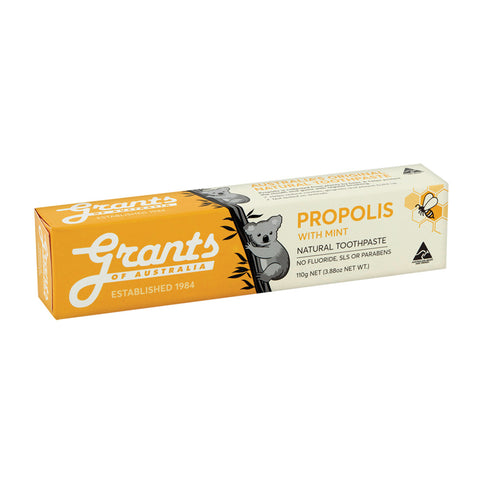 Grants
Grants Propolis Mint Toothpaste 110g
$3.00
$4.00
you save $1.00
Grants Propolis Toothpaste with mint helps to reduce plaque, dental cavities and reduce inflammation associated with gingivitis. Propolis is collected from plants by bees and it helps to protect the mouth and gums with regular brushing. Grants Propolis is ideal for adults who enjoy a strong minty taste.
Ingredients:
Ingredients: Water (aqua), Calcium Carbonate, Glycerin
(vegetable), Xylitol, Silica, Sodium Lauroyl Sarcosinate
(from coconut), Dicalcium Phosphate Dihydrate, Cellulose Gum,
Natural Herb Extract*, Menthol, Magnesium Hydroxide,
Melaleuca Alternifolia (tea tree) Leaf Oil, Methyl Salicylate
(oil of wintergreen), Potassium Chloride, Propolis Extract,
Stevioside (Stevia).
*Mint Oil, Eucalyptus Oil, Cardamom, Celery, Caraway,
Coriander, Dill, Thyme, Rosemary and Sage.

Caution: Do not use this product if you have an allergy to bees or bee products.

Not tested on animals. Contains no genetically modified ingredients, mineral oils or microbeads. Manufactured under GMP (Good Manufacturing Practices).
Key Benefits:
Certified Organic Ingredients

Free from Harmful Aluminium

Flouride Free

Sugar Free

No Sodium Lauryl Sulfate

No Parabens

Halal

Kosher
Not Certified Organic