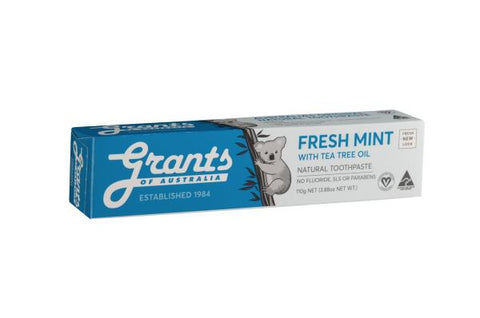 Grants
Grants Toothpaste Fresh Mint with Tea Tree Oil 110g
$3.00
$4.00
you save $1.00
Grants Extra Fresh Toothpaste with organic tea tree oil has a strong, fresh minty taste that helps keep teeth and gums thoroughly clean and leaves the mouth feeling sparkling fresh.
Tea tree oil has been renown for its antibacterial properties for thousands of years. Australian Aborigines would pick the oil-covered leaves of the tea tree plant and rub the leaves on their skin to help alleviate cuts, bites, burns and other skin ailments.
Modern day research and anecdotal evidence continues to discover new oral health benefits of tea tree oil, such as reducing chronic inflammation caused by gingivitis and helping to speed healing of mouth ulcers (canker sores).
With the beneficial herbs of cardamon, caraway, celery, coriander, rosemary, sage, thyme, dill, eucalyptus, and mint providing pleasant aromatic flavors, Grants Extra Fresh Toothpaste with organic tea tree oil also cleanses and sanitises the palate and has beneficial effects on digestion.
Ingredients:
water (aqua) Calcium Carbonate Glycerin(vegetable) Xylitol Silica Sodium Lauroyl Sarcosinate Cellulose gum Dicalcium Phosphate Dihydrate Natural Flavours – Mint, Eucalyptus, Cardamom, Celery, Caraway, Coriander, Dill, Thyme, Rosemary and Sage Stevioside Melaleuca Alternifolia (tea tree) Leaf Oil (certified organic) Magnesium Hydroxide Potassium Chloride.
Key Benefits:
Certified Organic Ingredients

Free from Harmful Aluminium

Flouride Free

Sugar Free

No Sodium Lauryl Sulfate

No Parabens

Halal

Kosher
Not Certified Organic