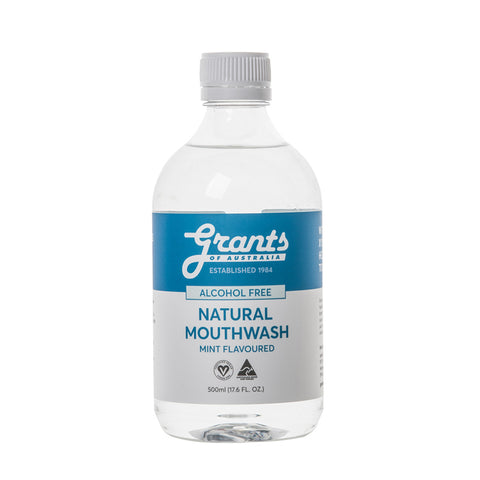 Grants
Grants Of Australia Natural Mouthwash Minty Fresh 500ml
$9.00
$10.00
you save $1.00
Grants Xylitol Mouthwash is a new healthy way to freshen your breath without the harmful effects of alcohol.
Most people think of Xylitol as a natural sweetener – but its uses are far superior than a simple sugar substitute…
Xylitol is clinically proven to help reduce bacteria and fight tooth decay.
How does Xylitol work?
When bacteria enter the mouth, they attach themselves to a variety of sugar complexes. The molecular structure of xylitol and its ability to form many different sugar-like structures appears to interfere with bacteria's ability to adhere to tooth enamel. Research shows that xylitol seems to attract then "starve" bacteria, allowing the mouth to re-mineralize damaged teeth.
With a pleasant mint flavour and the oral health benefits of stevia and menthol and as well as the gentle soothing effects of aloe vera and palate cleansing herbs including mint, eucalyptus, rosemary and sage, Grants Xylitol Mouthwash is suitable for all ages.
Use:
Grants Xylitol Mouthwash is ideal to include with brushing and flossing as part of your family's daily oral care routine.
Ingredients:
Water (aqua), glycerin (vegetable), xylitol (from tree bark), aloe barbadensis leaf juice (certified organic), polysorbate 20, stevioside, menthol, citric acid, cetylpyridinium chloride, natural flavour (contains extracts of mint oil, eucalyptus oil, cardamom, celery, caraway, coriander, dill, thyme, rosemary, sage).
Not tested on animals. Vegan friendly. Contains no genetically modified ingredients. Manufactured under GMP (Good Manufacturing Practices).
Key Benefits:
GMO Free

Flouride Free

No Sodium Lauryl Sulfate

No Parabens
Not Certified Organic
Barcode
9312812000903