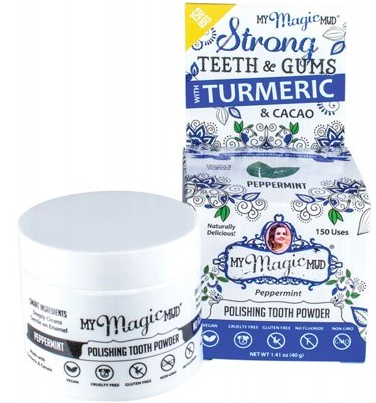 My Magic Mud
My Magic Mud Polishing Tooth Powder - Peppermint 40g
Want to keep your teeth thoroughly clean and white? Try My Magic Mud® Tooth Powder - a natural oral care remedy wtih a blend of certified organic turmeric, certified organic cacao, and bentonite clay.
Comes in Peppermint Flavour.
Directions
Scoop a small amount under your tongue or place it on top of your toothbrush. Brush gently and spit softly, with water running. Rinse and brush with clean toothbrush to remove lefrover residue. Rinse again, and then floss.
Ingredients:
Calcium Bentonite Clay, Calcium Carbonate, Peppermint Extract Powder*, Pure Cacao Powder*, Turmeric*, Non-GMO Xylitol, Stevia.
*Certified Organic
Key Benefits:
Organic Ingredients

Dairy Free

Gluten Free

Suitable of Vegetarians & Vegans
Barcode:
868656000153