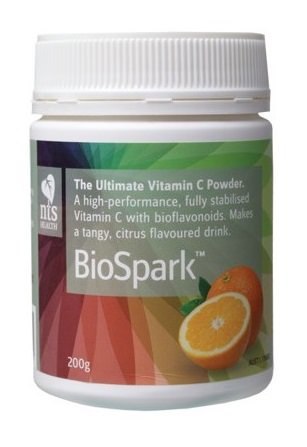 Nts Health
Nts Health BioSpark Vitamin C Powder 200g
$20.00
$21.00
you save $1.00
What is BioSpark?
Antioxidants for the improvement of well being. When stirred in a glass of water, mineral water or fruit juice makes a tangy citrus tasting drink. Vitamin supplementation can only be of assistance if the dietary vitamin intake is inadequate.
A multi-function wonder. Vitamin C is not produced in the human body but it is the work-horse of the detoxification system.
Vitamin C is a powerful antioxidant which can improve wellbeing.

Vitamin C regenerates Vitamin E and Glutathione.

A tasty, tangy vitamin C supplement in a convenient powder form.

Free of yeast, salt, wheat products (gluten), artificial sweeteners and flavouring, sucrose and lactose.
Vitamin C is removed along with each toxin and it is difficult to supply sufficient levels of this antioxidant in the diet. There are two critical requirements when supplementing with Vitamin C. The ascorbic acid component must be buffered with a mineral complex to prevent damage to beneficial gut organisms (ascorbic acid can be a biocide in its raw form). Secondly, the Vitamin C must contain a significant percentage of bio-flavonoids to insure maximum performance. BioSpark from NTS is fully buffered with a mineral complex involving magnesium, calcium, zinc, sulphur and phosphate. It also contains the optimum percentage of bio-flavonoids in the form of hesperidin.
Recommended Rates and Dosage:
Adults: 2 grams (half of a level metric teaspoon) daily.
Children: 2-12 years half adult dose.
Each 2 grams contains:
Ascorbic acid 800 mg, Calcium ascorbate 200 mg, hesperidin 190 mg, Calcium phosphate 100 mg, Magnesium phosphate 190 mg, Zinc sulfate monohydrate 2.9 mg, natural lemon flavour. Contains glucose and fructose.
Store below 30 degrees celsius. Keep container tightly capped to protect from moisture.
Key Benefits:
GMO Free

No Artificial Colouring, Flavouring or Preservatives

Gluten Free

Dairy Free

Suitable for Vegetarians & Vegans
Not Certified Organic