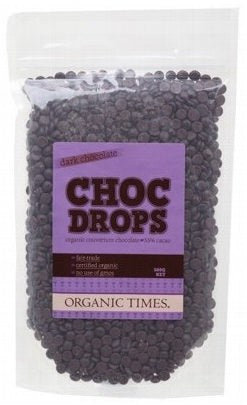 Organic Times
Organic Times Dark Chocolate Couvertre Drops 500g
$18.00
$19.00
you save $1.00
Organic Times is here to offer you the most natural and delicious products created from organic produce for healthier living and a better taste. Our goods are certified organic using the finest quality ingredients and no genetically engineered ingredients, including no GMO soy lecithin, providing you with our premium range.
Organic Times is fully Australian owned.
Ingredients:
Cocoa Mass, *Rapadura Whole Cane Sugar, *Cristallino Cane Sugar, *Cocoa Butter, *Soya Lecithin.
*Ingredients Certified Organic
Key benefits:
Certified Organic

GMO Free

Suitable for Vegetarians

Fair Trade
Please Note: This is a temperature sensitive product. During the hotter periods of October - April, products are prone to melting. Please order at your discretion. We do not recommend leaving these products outdoors for any periods of time.