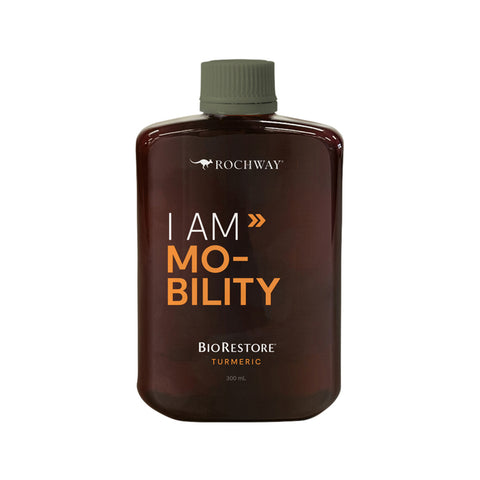 Rochway
Rochway I Am Mobility (BioRestore Turmeric) 300ml
$17.00
$19.00
you save $2.00
Rochway BioRestore® Turmeric Concentrate combines the superfood benefits of Turmeric with Ginger and Black pepper in a raw probiotic concentrate to support mobility, balance digestive flora and target inflammation.

Rochway's unique BioRestore® process involves five stages of bio-fermentation using multi-strain, gut loving probiotics, resulting in a more bio-available (easily absorbed) and bio-active complex to support healthy microflora and vibrant health and wellbeing.
Features:
Made with Australian Certified Organic Turmeric powder
Fermented with six probiotic strains
Gluten free
99% sugar free
Vegetarian & vegetarian friendly
Ingredients: 
BioRestore® Bio-fermented Turmeric & Ginger Concentrate (Papaya fruit and leaf, Turmeric powder, Ginger root extract, Piper Nigrum (Black Pepper) extract).

Six strains of probiotics used in the fermentation process include:
Lactobacillus acidophilus, Lactobacillus casei, Lactobacillus plantarum, Lactobacillus bulgaricus, Bifidobacterium
lactis and Saccharomyces cerevisiae (boulardii).

Free from sulphites, gluten, wheat, tree nuts, crustacea, eggs, fish products, animal products, lupin, milk products, mollusc, peanuts, sesame seeds, soybeans, and artificial colours and flavours
Directions:
Mix 15 mL with food daily, or add to your juice or smoothie.
If pregnant or breastfeeding, consult your health professional. Not suitable for children under 3 years
Key Benefits:
Dairy Free
Gluten Free
Vegetarian
Vegan Friendly