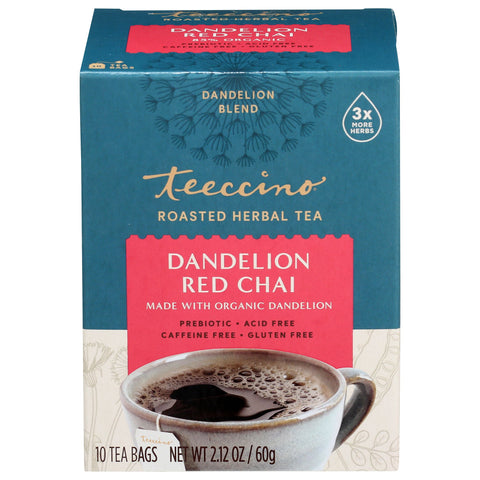 Teeccino
Teeccino Chicory Tea Dandelion Red Chai x 10 Tea Bags
$8.00
$9.00
you save $1.00
Thanks for signing up for restock notifications!
There was an error signing up for restock notifications. Please try again.
Sign up for restock notifications
Stimulating ginger, cinnamon, cardamom, black pepper and cloves accent red rooibos tea against roasted dandelion and chicory roots.
Dandelion rooibos spices oh my! What an amazing group of herbs you have in this cup of tea. Naturally fermented rooibos with its earthy red depths and abundant health benefits drawn up from the very tip of the Cape of Africa meets roasted dandelion and chicory Europe's super healthy roots with bitter principles that start your digestion singing. Top it off with a classic group of stimulating spices that wake up your organs with a rush and a tingle and now you have a tea worthy of worship or at least daily imbibing!

Yes spices really do do that and they will for you too. If you're currently habitual with caffeine every morning, give your adrenals a break and try a spicy brew instead!
Health Benefits:
Naturally caffeine free – no processing or chemical residues
Acid free – helps restore alkaline balance
Natural energy boost – from nutrients not stimulants
Antioxidants from carob, dandelion roots, rooibos, cinnamon, ginger, cardamon, dates, black pepper and cloves
Contains heart-healthy potassium and soluble fiber
Prebiotic – inulin from chicory root feeds your probiotics, the beneficial microflora that improve gut health, regularity and supports your immune system. Inulin extracts naturally into your cup from chicory roots during brewing.
Ingredients:
Roasted organic carob, organic rooibos, organic chicory, organic dates, organic dandelion root, organic cinnamon, organic ginger, natural spice flavor, organic cardamom, sweet blackberry leaves, black pepper cloves.
May contain trace amounts of almonds.
*All Teeccino flavors are extracted from plants and comply with organic standards.
Details:
Teeccino tea bags make brewing Teeccino easy and convenient at home or on the go!
Each tea bag contains 6g of Teeccino. Regular tea bags only hold 1 – 2g. Teeccino tea bags have more than 3 times the product as regular tea bags to create a full-bodied brew.
The exact same Teeccino grounds are in the tea bags as in our 11 oz bags. Tea bags are simply Teeccino in a filter bag.
Each tea bag is individually wrapped in an envelope to seal in flavor and make it easy to transport wherever you go.
Certified 100% compostable tea bag filter paper. Oxygen-bleached.
100% recycled carton: 70% post consumer material.
Instructions:
When opening the envelope give a little shake at the top to move the tea bag to the bottom of the envelope. This makes sure the filter bag is below the tear-point in the envelope.
Pour 8 oz of boiling water over the tea bag in a cup and steep for 3-5 minutes.
Dunk the bag several times in the beginning for the best brew.
Use 2 tea bags for a stronger brew in a larger mug or tea pot.
Add milk, non-dairy milk and sweetener as you prefer.
Key Benefits:
Organic Ingredients

GMO Free

Safe for Pregnant Women & Nursing Mothers

Dairy Free

Suitable for Vegetarians & Vegans

Kosher