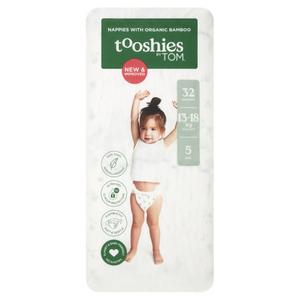 Tooshies by TOM
TOOSHIES BY TOM Nappies With Organic Bamboo Size 5 Walker - 13-18kg 2x32
$45.00
$55.00
you save $10.00
A softer and more absorbent disposable nappy made from certified organic bamboo with a biodegradable back sheet. 
BABY AND PLANET FRIENDLY
tooshies by TOM organic bamboo nappies are the most sustainable choice when performance, comfort and caring for your baby are non-negotiables.
These high-performing eco nappies are made from certified organic bamboo, they are naturally insulating, anti-microbial and offer a 12-hour leak-proof protection guaranteed to keep your baby dry all day and night.
Softer and more absorbent than before, the organic materials make this nappy super soft, breathable and free from nasties to soothe sensitive bottoms. With the environment in mind, these nappies have a 100% biodegradable back sheet and a biodegradable blended bamboo core.
WHY BAMBOO?
The environmental impact of a disposable nappy is related to its raw materials and manufacturing, which is why Toms have chosen organic bamboo as their core ingredient. Bamboo is naturally renewable and generates more oxygen than any other trees and crops.
Ingredients:
Renewable Biodegradable Bioplastic, Bio-Based Polypropylene (Made from Sugar), Polymer Spandex and Polypropylene, Chlorine Free Wood Pulp from Sustainably Managed Forests, Bio Core (Made from Wheat Starch), Blended with the Sap (Super Absorbent Polymers) Safe Adhesives, Inks (that Do Not Contain Heavy Metals or Lead), Citrus Extract and Liquid Chlorophyll (Natural Odour Blockers).
Key Benefits:
No Nasties!

Made from Certified Organic Bamboo

12 hour leak protection

Biodegradable

Paraben Free

Phthalate Free
Barcode:
19346285000877