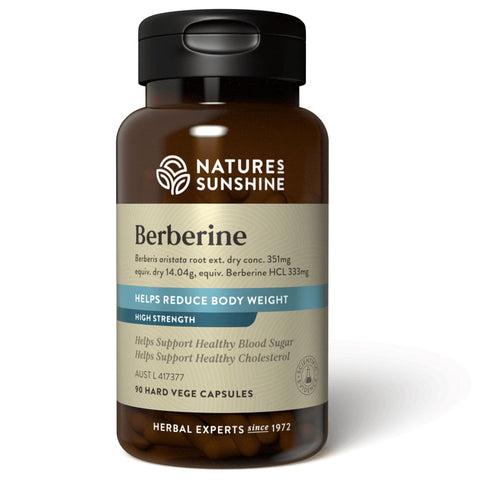 Natures Sunshine
Nature's Sunshine Berberine 90c
$35.00
$37.00
you save $2.00
Sourced from Indian Barberry located in the Himalayan mountains, Nature's Sunshine Berberine may assist in helping to reduce body weight, maintain healthy blood sugar and cholesterol and much more!
Those wanting to maintain healthy blood sugar
Those wanting to maintain healthy cholesterol
Those wanting to maintain a healthy weight through diet and exercise
Those wanting to reduce inflammation
General health and well being. 
Recommended Use:
Take 1 capsule 3 times daily with a meal, or as professionally prescribed. 
Cautions & Warnings: 
Take two hours away from all prescription medications. A 2-week break period is recommended after 3 months of use.
Always read the label. Follow directions for use. If symptoms persist, talk to your health professional.
When used in conjunction with a program of reduced intake of dietary calories and increased physical activity. Not recommended for use by pregnant and lactating women.
Ingredients:
Each capsule contains:
Berberis aristata (Indian Barberry) root extract dry con. 351mg equiv. to
Berberis aristata dry root 14.04g std. to contain Berberine hydrochloride 333mg.