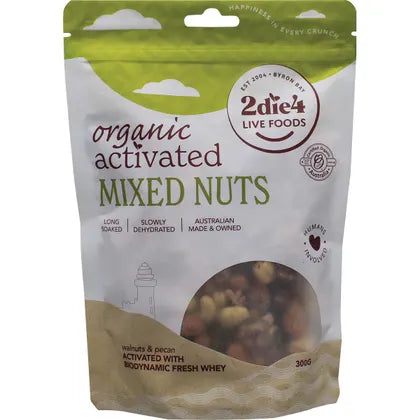 2Die4 Live Foods
2die4 Live Foods Organic Activated Mixed Nuts Activated With Fresh Whey 300g
$17.00
$18.00
you save $1.00
Created for you to enjoy a variety of activated, organic nuts with the one purchase. We long soak and slowly dehydrate only the very best organic nuts at low temperatures, releasing the bioavailability of their vitamins and minerals. We then pack our activated organic nut fresh at our facility in Byron Bay.
Ingredients:
Organic (Almonds*, Walnuts* (Walnut, Whey (Milk), Cashews*, Brazil Nuts*, Hazelnuts*, Pecans* (Pecans, Whey (Milk), Pistachios*, Fresh Whey (Milk)), Australian Sea Salt.
*denotes activated ingredients
Key Benefits:
Certified Organic
Gluten Free
Vegetarian 
Barcode:
9340755000162
Made in Byron Bay from local and imported ingredients.