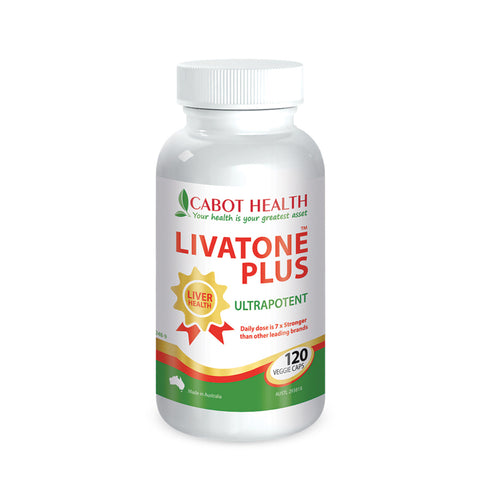 Cabot Health
Cabot Health LivaTone Plus 120 Capsules
Cabot Health's bestselling, high potency, multi-action formula that has been used and trusted by people across the world for more than 20 years! Specially formulated to contain as many active, liver-loving ingredients as possible, to provide the liver with maximal support. This comprehensive and unique formulation is designed to support and strengthen detoxification pathways, to help rid the body of toxins and heavy metals. It could assist the liver in repairing and regenerating itself, in cases of liver inflammation. LivaTone Plus supports optimal digestive and gallbladder function.
The benefits of LivaTone Plus:
Eliminating toxins: Our formula contains all the essential nutrients (including selenium, B vitamins and vitamin C) that are required by the liver for the removal of toxins, heavy metals and waste products from the body. Speeding up the detoxification pathways reduces the risk of these toxins causing damage and inflammation to cells, tissues and organs.

Liver repair: The active ingredient in milk thistle - silymarin may aid in the production and regeneration of healthy liver cells. Our formula contains a potent, therapeutic dose of milk thistle to allow your damaged liver to reap its benefits. Many products on the market dilute their silymarin to save on costs, but we use the pure, undiluted extract for maximal liver benefit.

Gallbladder support: LivaTone Plus supports healthy bile acid production and may help to increase clearance of excess cholesterol. It could assist those with poor-functioning gallbladders.

Dosage:
Adults: 1-2 capsules, twice daily with or without food.
May begin with two capsules daily and can increase the dose to 4 capsules daily if needed.
Children: 1 capsule, twice daily with or without food.
Ingredients:
Silybum marianum (Milk Thistle) fruit extract.
Equivalent to Silybum marianum fruit 9.1875g.
Equivalent to Silymarin (flavanolignans 105.0mg
calculated as silybin).
Curcuma longa (Turmeric) rhizome extract 375 mg.
Key Benefits
Dairy Free
Gluten Free
Sulphate Free
Vegan and Vegetarian Friendly