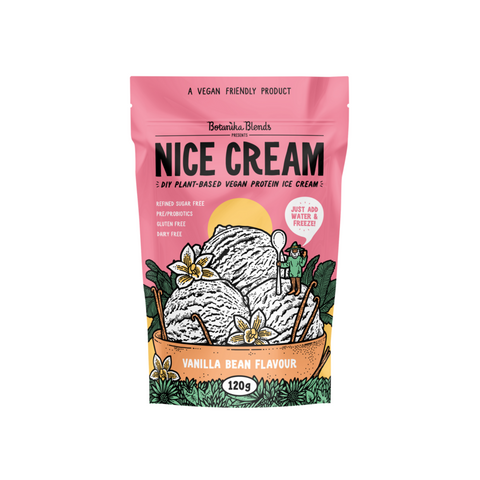 Botanika Blends
Botanika Blends Nice Cream Vanilla Bean 120g
Botanika Blends Nice Cream is a delicious vanilla vegan protein ice cream. Made from all natural ingredients. It contains pre and probiotics to support gut health and fibre-rich flaxseed. Made from faba bean protein, coconut milk, probiotic culture and naturally sweetened by stevia. This easy-to-make ice cream is a great addition to cake, jelly, custard or your favourite dessert recipe. Just add water and freeze!
Ingredients:
Coconut Milk Powder, Faba Bean Protein, Natural Flavour, Inulin, Probiotic Culture (Bacillus Coagulans), Vegetable Fibre (Flaxseed), Sunflower Lecithin, Organic Vanilla Bean Powder, Natural Sweetener (Stevia), Sea Salt.
Close package immediately after use. Store in a cool, dry place, away from direct sunlight.
Key Benefits:
Organic Ingredients
Gluten Free
Dairy Free
Vegetarian Friendly
Vegan Friendly