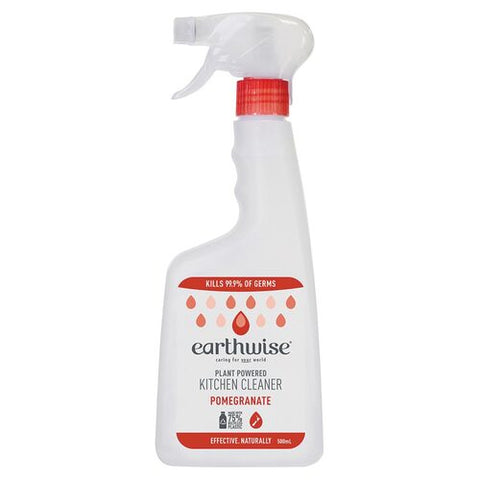 Earthwise
Earthwise Kitchen Cleaner Pomegranate 500ml
Kitchen Cleaner is a naturally powerful formula that effectively cleans grease and oil from your kitchen surfaces, and kills 99.9% of germs such as E.coli, Salmonella and Staphylococcus. It's grey water and septic tank safe.
Directions:
Spray cleaner as required onto surface and wipe with a clean damp cloth or paper towel. Suitable to use on stainless steel, stoves, bench tops and other non-porous surfaces. Use with care on varnished and all other surfaces. Check in an inconspicuous area first if unsure.
All products have an effect on the environment. Always use the correct dose for maximum efficiency and minimum environmental impact.
Ingredients:
Aqua (Water), Caprylyl/Capryl Glucoside (Plant Based Surfactant), Ethanol (Naturally Derived Alcohol), Sodium Citrate, Sodium Carbonate (Washing Soda), Sodium Palmate, Sodium Palm Kernelate, Glycerin, Tetrasodium Etidrionate (Soap), Citric Acid (Natural pH Modifier), Sodium Hydroxymethyl Glycinate (Preservative), Parfum (Fragrance).
Key Benefits:
Eco Friendly

Family & Household Safe

Phosphate Free

Nitrate Free

Chlorine Free

Ammonia Free

Sulphate Free

Suitable for Vegetarians & Vegans