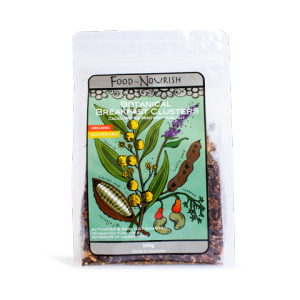 Food To Nourish
Food to Nourish Clusters Cacao Wattleseed 500g
$15.00
$16.00
you save $1.00
Wattleseed is an Australian native spice, it has a beautiful coffee, chocolate and hazelnut aroma and flavour. This pairs perfectly with our added raw organic cacao powder, organic cacao nibs and activated organic hazelnuts.

We've used gluten free organic grains; puffed quinoa, puffed brown rice and sprouted buckwheat.

This product hasn't been roasted, instead we've activated it by drying it at low temperatures for 24 hours. This maintains the quality and vibrancy of the product and the ingredients we have used.
Ingredients
Organic activated buckwheat, organic maple syrup, organic coconut flakes, organic pepitas, organic raw cacao powder [8%], organic activated hazelnuts [5%], organic activated cashew nuts, organic puffed quinoa, organic puffed brown rice, organic raw cacao nibs [3%], vanilla bean powder and wattleseed powder [1%].
Key Benefits
Gluten Free
Paleo Friendly
Suitable for Vegetarians and Vegans