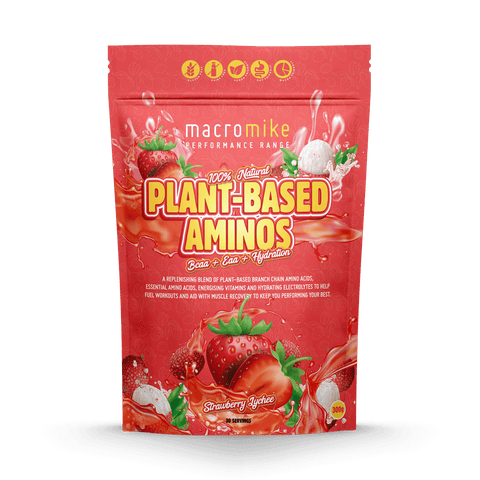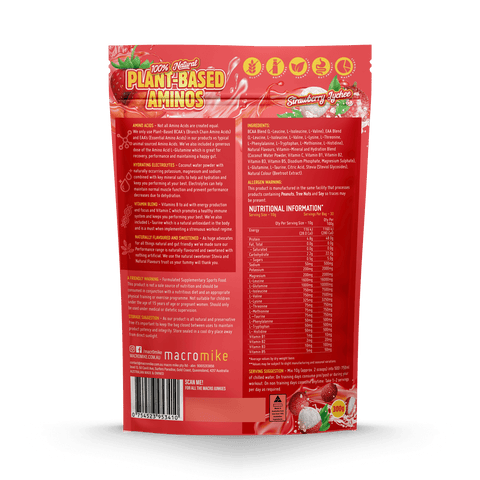 Macro Mike
Macro Mike Plant-Based Aminos Strawberry Lychee 300g
$43.00
$44.00
you save $1.00
An invigorating blend of Creatine, Amino Acids, Vitamins and Plant Derived Caffeine to give you a complete natural boost. Now available in 3 epic flavours including a Caffeine free Blueberry Fizz. 
Amino Acids:
Not all Amino Acids are created equal. We only use Plant-Based BCAA's (Branch Chain Amino Acids) in our products vs typical animal sourced Amino Acids. We've also included L-Arginine and L-Citrulline for pumps, and exercise endurance and L-Tyrosine and L-Taurine for optimising exercise performance and combat fatigue.
Creatine:
One of the most heavily researched supplements. Creatine can help to improve strength, speed up muscle recovery and assist with lean muscle mass when used in conjunction with exercise. Creatine has been shown to be beneficial with speed, power and endurance.
Caffeine:
As an advocate for all things natural our Pre Workout only contains naturally sourced plant derived caffeine from guarana, yerba mate and kola nut seed. You'll feel the benefits without the jitters or crashes. Our pre workout is perfect to get you in the zone whilst still maintaining a healthy and thriving nervous system.
Naturally Flavoured and Sweetened:
As huge advocates for all things natural and gut friendly we've made sure our Performance range is naturally flavoured and sweetened with nothing artificial. We use the natural sweetener Stevia and Natural flavour essences to create an amazing tasting drink which won't upset your tummy.  
A Friendly Warning - Formulated Supplementary Sports Food. This product is not a sole source of nutrition and should be consumed in conjunction with a nutritious diet and an appropriate physical training or exercise programme. Not suitable for children under the age of 15 years of age or pregnant women. Should only be used under medical or dietetic supervision. Contains approximately 85mg caffeine per 10g serving.
Ingredients:
BCAA Blend (L-Leucine, L-Isoleucine, L-Valine), Eaa Blend (L-Leucine, L-Isoleucine, L-Valine, L-Lysine, L-Threonine, L-Phenylalanine, L-Tryptophan, L-Methionine, L-Histidine), Natural Flavours, Vitamin-Mineral and Hydration Blend (Coconut Water Powder, Vitamin C, Vitamin B1, Vitamin B2, Vitamin B3, Vitamin B5, Disodium Phosphate, Magnesium Sulphate), L-Glutamine, L-Taurine, Citric Acid, Stevia (Steviol Glycosides), Natural Colour (Beetroot Extract).
Key Benefits:
Gluten Free
Dairy Free
Vegetarian
Vegan Friendly