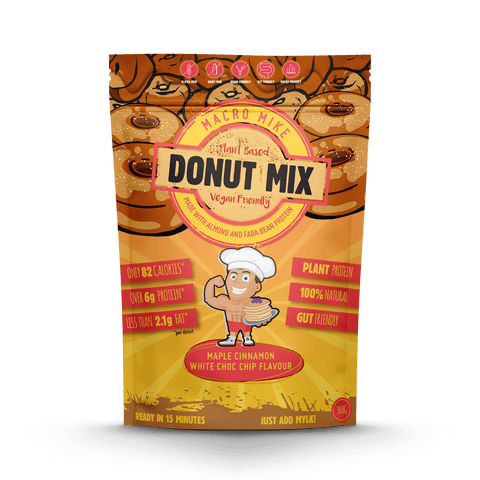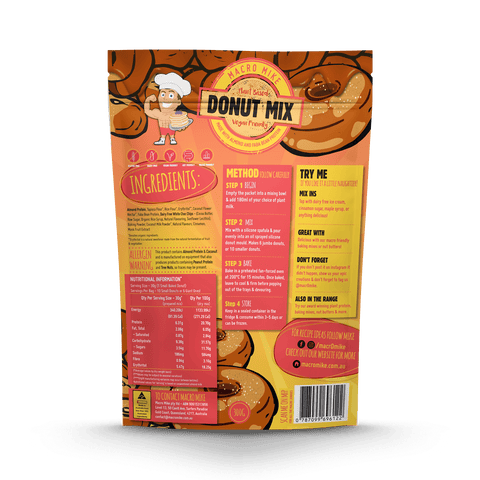 Macro Mike
Macro Mike Protein Donut Baking Mix Maple Cinnamon White Choc Chip Flavour 300g
$13.00
$14.00
you save $1.00
We hear you, our easter egg donuts which we released as a limited edition product on an almond protein base have become our most requested baking mix EVER.
Therefore, we've reformulated and relaunched our V1 Cinnamon Donuts (Peanut Protein base) to now be on our revolutionary V2 Almond and Faba protein base. Think light, fluffy, less stodgy and more donut like. These are absolutely INSANE and if you love our old Cinnamon Donuts you'll love these even more. If you weren't a huge fan, give them another go you won't regret it.
These babies are 100% natural, gluten free, vegan and jam-packed with protein for a nutrition punch. All the treats without all the nasties. Each donut is macro friendly and contains no nasties. Gluten free, dairy free with zero compromise in taste. Packed with Almond and Faba bean plant protein YUMMM!
They're also super easy to make! Just add water or mylk, mix, bake and enjoy. Enjoy them fresh out the oven on their own, drizzled with our legendary powdered nut butters, or crumbled over your favourite oats or smoothie bowl.
Our range of world-first macro-friendly baking mixes are guaranteed to knock your socks off. They're ridiculously tasty, super easy to make and good for your tummy too. Made for convenience with 100% natural ingredients, super charged with our plant based protein and full of gut nourishing fibre, these mixes fit right into your busy schedule. Optimal nutrition and buckets full of flavour are non-negotiable for us, and we don't mean to brag…but we think we've changed the donut game for good.
Ingredients:
Peanut Protein, Rice Flour*, Tapioca Flour*, Coconut Flower Nectar*, Erythritol*, Vegan White Choc Chunks* (Cocoa Butter, Raw Sugar, Rice Syrup, Vanilla Extract, Sunflower Lecithin), Pea Protein*, Rice Protein*, Natural Flavours*, Baking Powder, Coconut Milk Powder*, Himalayan Rock Salt, Stevia (Steviol Glycosides)*. *Denotes Organic Ingredients
Key Benefits:
Organic Ingredients
Gluten Free
Dairy Free
Vegetarian
Vegan Friendly