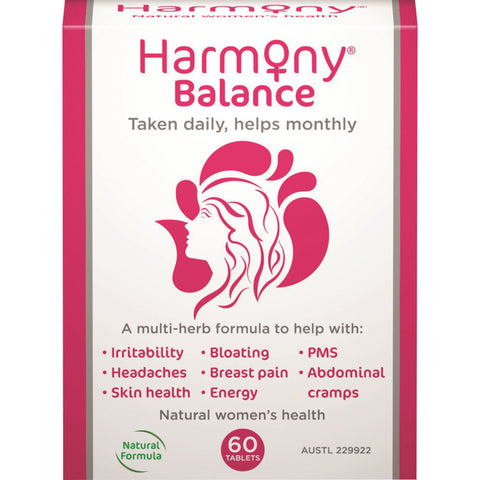 Martin & Pleasance
Martin & Pleasance Harmony Balance
$19.00
$21.00
you save $2.00
For over 150 years Martin & Pleasance has provided an extensive range of natural remedies based on a commitment to Integrity, Quality and Innovation. Proudly Australian made and owned, at Martin & Pleasance we pride ourselves on pioneering new and champion emerging products that can be of most help to you, naturally.
Harmony balances hormones and regulates the menstrual cycle as well as relieving emotional irregularities. The herbs in Harmony Balance have been well researched and selected specifically to address the cause and symptoms of PMS, unbalanced hormones. They include the following herbs:

Vitex agnus-castus fruit 175mg: Clinically proven to reduce PMS symptoms, Vitex is used to regulate the menstrual cycle and restore normal balance.
Ingredients:
Each Tablet contains extract equivalent to the dried herbs: Vitex agnus-castus fruit (Chaste Tree): 175mg, Angelica polymorpha root (Dong Quai): 2g, Paeonia lactiflora root (Peony): 2g, Bupleurum falcatum root: 1g
Also including naturally derived excipients: Calcium hydrogen phosphate, Cellulose – microcrystalline, Croscarmellose sodium, Hypromellose, Silica – colloidal anhydrous, Magnesium stearate, Chlorophyllin – copper complex, Carnauba wax. Tablet coating proprietary ingredient PI 4029. Vitamin D3 150IU (Cholecalciferol): 3.75ug Vitamin B6 (from Pyridoxine hydrochloride): 25mg
Key Benefits:
GMO Free

Gluten Free

Preservative Free

No Artificial Sweeteners

Dairy Free

No Animal Products

Relieves PMS Symptoms

Stabilises Mood Swings!

Suitable for Vegetarians & Vegans
Please note:
Always read the label and use only as directed. If taking any medications or symptoms persists, consult your healthcare professional