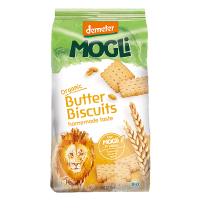 Mogli
Mogli Organic Butter Biscuits 125g x 7 (box quantity)
$32.00
$33.00
you save $1.00
Mogli's Organic Butter Biscuits are made from the very best Demeter wheat and creamy Demeter butter combined with the natural sweetness of agave and vanilla. Naturally great in taste, that's the Mogli promise!
Mogli's kids panel gave these delicious biscuits really high scores. What a yummy snack for active children!
Comes in a box quantity of 7 packets.
Ingredients:
WHEAT flour** 61%, BUTTER** (milk product) 16%, agave syrup* 16%, agave powder* 7%, Bourbon vanilla*, baking agent: monopotassium tartrate, sodium bicarbonate
** from biodynamic farming
* from organic farming.
Key Benefits:
Certified Organic

GMO Free

No Artificial Colours or Flavourings

Suitable for Vegetarians

Certified by INLT