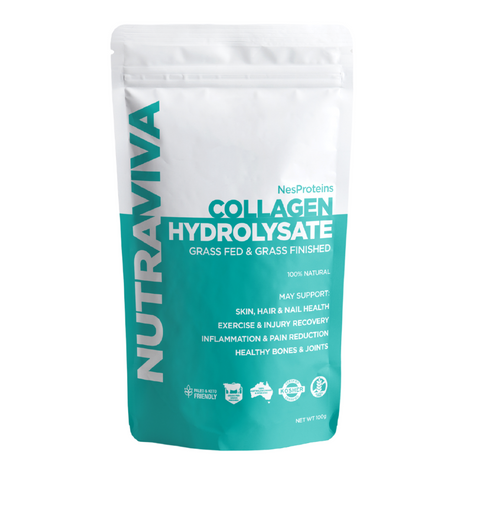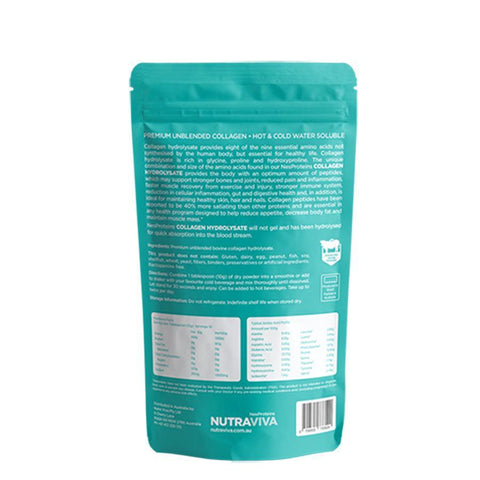 Nes Proteins
Nes Proteins Kosher Grass Fed Collagen Hydrolysate 100g
$10.00
$12.00
you save $2.00
What are Collagen Peptides/ Hydrolyslate?

Collagen is a natural and healthy ingredient that has been used for centuries. Our ancestors utilized whole-animal nutrition, which provided an abundant amount of collagen, the native form of gelatin. Over time, we have lost touch with this powerful, healing superfood.


Collagen Peptides are bioactive forms of collagen. Collagen makes up 30% of the protein in our bodies and is vital for our connective tissue regeneration. It is considered the "glue that holds the body together". As we age, our bodies begin to make less and less of the collagen required to keep our bodies going, and so collagen peptide supplements help to replenish these much needed stores in our bodies.
If you find yourself struggling with joint, muscle and bone pain, supplements such as Vital Proteins Collagen Peptides help and rebuild these tissues from the inside.


The intake of collagen ensures the elasticity and regeneration of skin, hair, nails, tendon, cartilage, bones, and joints.
Vital Proteins Collagen Peptides are sourced from pasture raised bovine hides from Brazil to ensure a natural, high quality, and sustainable source of this ancient nutritional powerhouse. These bovine are not given hormones, steroids, or antibiotics. They eat their natural diet – grass, and receive plenty of open space and sunshine.The result is this high quality product, just as nature intended.

Collagen Peptides Benefits:
Promotes healthier and younger looking skin, stronger hair, and stronger nails.
Support bone strength
Improves joint health
Contributes to a balanced diet
Supports healthy inflammation response due to overexercise
Natural glycine improves sleep quality.

Collagen Peptides Highlights:
Grass Fed
Kosher
Naturally Minimally Processed
Cold Water Soluble
No additives or preservatives
Great for mixing into juice, milk, water or coffee as it does NOT gel
Light molecular weight is highly digestible

Clinically Proven
Backed by clinical studies, collagen supplementation is the most effective anti-aging method known today. By giving your body the raw materials it needs to repair, you are healing your body from the inside out.

How-To:
The cold-water soluble nature of Vital Proteins Collagen Peptides makes it fantastic for mixing into almost any drink or dish imaginable.

Suggestions:
Mix with fruit juice or milk
Add to a post-workout protein shake for added support
Add to a smoothie for a boost in protein
Mix with common foods such as oatmeal, cereal, or even the pasta sauce for your spaghetti.