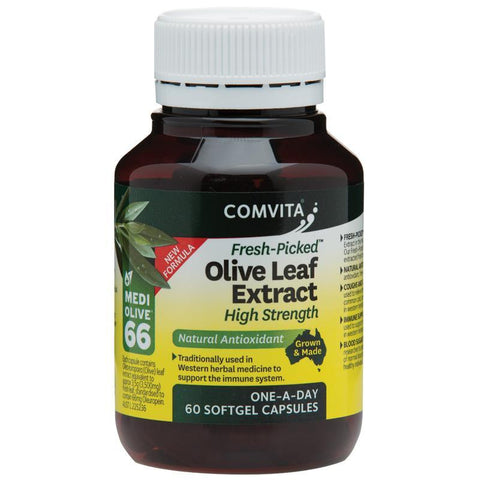 Olive Leaf Australia
Comvita Olive Leaf Extract 60 Vege Caps
Olive Leaf Australia Olive Leaf Extract Natural Flavour Olive leaves have been used widely in the traditional remedies of many nations, including for fever relief. They also help to maintain a healthy cardiovascular system and normal heart function. The liquid extract in this bottle contains a range of very powerful cell-protecting antioxidants and is made directly from fresh-picked olive leaves. It's for busy who need and deserve good health to meet every day's demands.
Why take Olive Leaf Australia's Extract?
The unique fresh leaf extract is a natural, multi-use tonic suitable for the whole family. It has 400% more antioxidant power than Vitamin C. Research and testimonials have demonstrated its effectiveness in helping to maintain a healthy cardiovascular system and it also assists in the maintenance of normal heart function. Used traditionally to help relieve fever, many people also take it during the winter months.
Olive Leaf Australia's Capsules contain an extract made from fresh olive leaves, grown and packed on our own olive estate. Developed after four years of research, each capsule contains the natural healing compounds of Olive Leaf Australia's powerful fresh-picked olive leaf liquids.
Key Benefits:
GMO Free

400% more Antioxidant power than Vitamin C

No Reconstituted powders

No Artificially boosted Oleuropein

No Alcohol or Artificial Preservatives

Suitable for Vegetarians
Not Certified Organic
Barcode
9400501202261