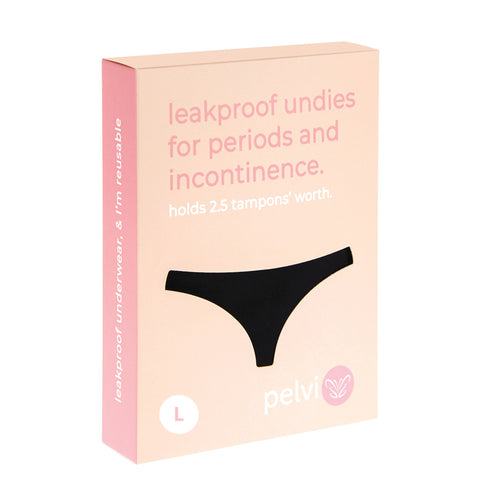 Pelvi
Pelvi Leakproof Underwear Bikini Black XS-XXL
Thanks for signing up for restock notifications!
There was an error signing up for restock notifications. Please try again.
Sign up for restock notifications
Leakproof Underwear - A Simple Solution to A Pesky Problem.
Pelvi leakproof underwear combines soft comfortable fabrics with built-in water resistant absorbency liners to give you maximum leakproof protection that actually works - all day.

How Does It Work?
Pelvi leakproof underwear uses 4 super absorbent layers to hold up to 20ml of fluid. The moisture-wicking layer also draws sweat and discharge away from the source and fights bacteria to keep you fresh. Only 2.5mm thick, Pelvi leakproof underwear is slimmer than bulky pads. Using reusable leakproof underwear is healthier for your body. No harsh chemicals or fibres like disposables. Simply machine wash, dry and re-use.

Our classic high waisted bikini style is sleek and conforms to your curves, so you can be confident and worry-free.
XS: Fits sizes 6-8 AU (Hips 35-36 inches)
S: Fits sizes 8-10 AU (Hips 37-38 inches)
M: Fits sizes 10-12 AU (Hips 39-40 inches)
L: Fits sizes 12-14 AU (Hips 41-42 inches)
XL: Fits sizes 14-16 AU (Hips 43-44 inches)
XXL: Fits sizes 16-18 AU (Hips 45-47 inches)
Features:
Will Keep You As Dry As The Desert
Absorbs 2.5 tampons of fluid
Perfect for incontinence and postpartum
Heavy/overnight absorbency
Anti-bacterial and breathable
Directions:
Pelvi underwear is machine washable. Wash on a gentle cold cycle and hang to dry. You can also use a laundry bag to protect your underwear from damage. Subject to wash and care of your Pelvi leakproof underwear, they will last for 6 months to 2 years. Underwear is considered a delicate garment, so the elastic and thread may get damaged with wear and tear.