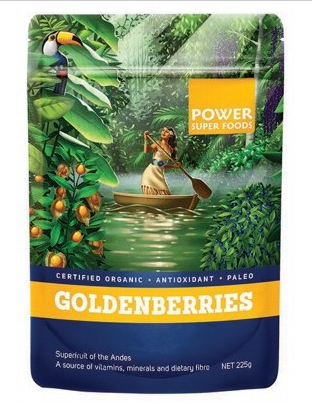 Power Super Foods
Power Super Foods Organic Goldenberrys 225g
$15.00
$16.00
you save $1.00
The Incan Goldenberry is native to South America, but cultivated and known more commonly around the world as Cape Gooseberries. The fresh berries are bright yellow and very sweet when ripe, and in their lantern-like husks are used in decorative gourmet dessert garnishes.
Delicious sweet tangy flavour. High source of Vitamins A, C, B1, B2, B6, B12, fibre, phosphorous, calcium, cleansing pectin and interestingly for a fruit, which have a high protein count. They are also a good source of bioflavonoids (Vitamin P) considered to have anti-inflammatory, anti-oxidant and anti-viral properties.
Suggested Uses:
Delicious straight out of the bag, or add to trail mix, yoghurt, muesli, lunch boxes, fruit cakes, muffin or cookie batter.
Key Benefits:
Certified Organic

GMO Free

Raw

Gluten Free

Dairy Free

Suitable for Vegetarians & Vegans
Certified by ACO