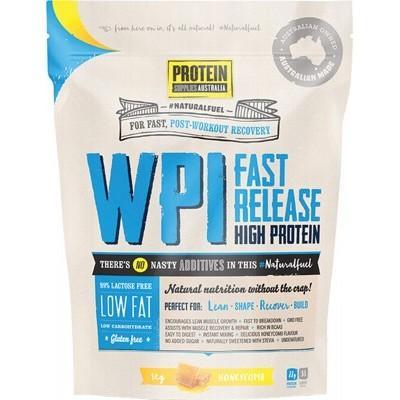 Protein Supplies Australia
Protein Supplies Australia WPI (Whey Protein Isolate) - Honeycomb 1kg
$57.00
$58.00
you save $1.00
Do you like to use artificial sweeteners?
Love consuming excessive loads of crap & fillers?
Need to have products with artificial flavours & colours?
THEN, UNDER NO CIRCUMSTANCES SHOULD YOU USE OUR PRODUCTS.
Bringing you...
Australia's best selling, MOST affordable, highest quality pure nutritional products.
Now that's a big claim, but we know we can back it up!
Protein Supplies Australia's WPI is a Whey Protein Isolate which is manufactured by a special cross-flow filtration process where the Whey Protein is isolated via a patented fractionation process.
This process in manufacturing ensures you are getting the highest of protein quality and purity. There is nothing added to this WPI – no fillers, no gums, no artificial sweetners, colours or preservatives - this is a completely pure product.
The Whey Protein Isolate is sourced and manufactured by one of the most reputable dairy plants in the world – located in the USA – which pride themselves in the quality of their product and state of the art facilities, ensuring that there is no room for disappointment.
Great for weight loss, children who have fussy eating habits (under controlled diet by health care professional), busy people, health conscious people or physical lifestyles.
May assist with recovery, growth and repair of muscle tissue.
Protein Supplies Australia Whey Protein Isolate may assist with:
Premium Platinum Grade Quality

Superior Protein Source

Low Fat – Low Carb – High Protein (1g of Fat per 100g / 0.2g of Carbohydrate per 100g / 93g Protein per 100g)

99.8% Lactose Free

Rich in Branch Chain Amino Acids (BCAA) & Amino Acids

Fast Absorption

Fast Breakdown

Immune Boosting

Low GI (Glycemic Index)

World Health Organisation PDCAAS (Protein Digestibility Corrected Amino Acid Score) of 1.0 (highest available)

Premium Platinum Grade Quality