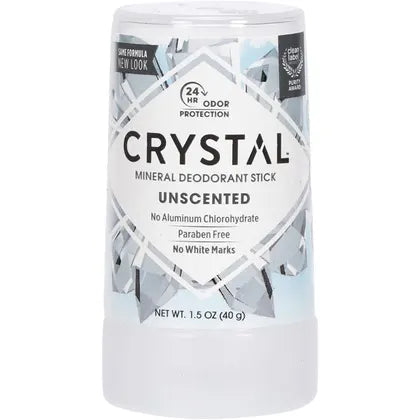 Crystal Body
Crystal Body Deodorant Stick Fragrance Free 40g
$5.00
$7.00
you save $2.00
Enjoy original Body Deodorant Rock shaped into an easy to use, silky smooth twist-up stick. Perfect for Women and Teens, this 100% natural mineral salt crystal lasts up to one year with suggested use.
Contains No Harmful Chemicals
No Aluminum Chlorohydrate, Aluminum Zirconium, Parabens, Phthalates.
Ingredients:
Natural Mineral Salts.
How to Use:
Slightly moisten the top of the rock and apply generously to clean skin. For best results use daily and apply just after bathing or showering.
Can be used by men and women.
Key Benefits:
No Harmful Chemicals

No Aluminum Chlorohydrate

No Aluminum Zirconium

No Parabens 

No Phthalates 

Suitable for Vegetarians & Vegans
Not Certified Organic