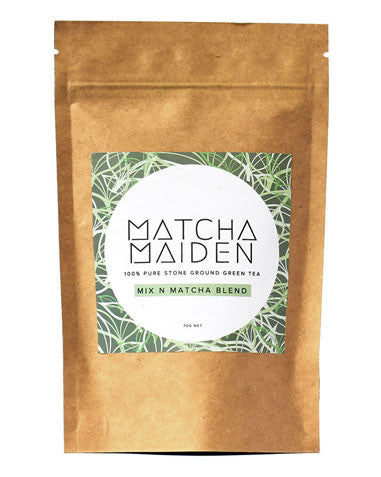 Matcha Maiden
Matcha Maiden Matcha Green Tea Powder 70g
$20.00
$21.00
you save $1.00
It has been around for centuries and is traditionally consumed as part of the Japanese tea ceremony. Buddhist monks have been reaping the benefits of matcha since long before tea-toxes or even tea bags were a thing. Finally, thanks to Matcha Maiden, the rest of the world is catching up.
So what actually is matcha powder?
Matcha may seem like a fancy buzz word, but it's actually more simple than you'd expect - it's just 100% pure green tea leaves stone ground into a fine powder. Our Mix N Matcha has no added sugar or other additives whatsoever. It is certified-Japanese organic and is sourced from the world renowned rolling hills of Kyoto, Japan.
How is it different to regular green tea?
With regular green tea, you brew hot water with tea leaves but then throw them out afterwards. With matcha, you consume the whole tea leaf along with all its green goodness (I know, how have we not been doing that all along?!) On top of that, matcha tea bushes are grown specially under cover which increases the chlorophyll and amino acid levels in the leaves even further. Matcha can have the nutritional value of up to 10 cups of regular green tea and up to 137 x the antioxidants of regular green tea!!!
How do I use it?
Matcha is very concentrated so you only need 1/2 to 1 teaspoon (2g) per serve. While it may seem pricier than regular green tea, so little is needed for such stronger benefits that it works out cost-effectively. Mix N Matcha has been selected through extensive taste-testing to get that perfect matcha flavour with a delicate balance between bitter and barely-there. The beauty of it is you can literally add it to anything and everything. Green smoothies are a great start!
The potential health benefits of green tea are well known and include:
increased focus and concentration

higher energy levels

enhanced metabolism

stronger immune system

clearer skin

general improved wellbeing
Matcha Maiden's mix-and-matcha is made entirely of pure green tea leaves stone ground into a delicate but densely nutritious vibrant green powder. Sourced from the lush green rolling hills of the Uji region in Kyoto Japan, mix-and-matcha is Japanese certified organic and packed so full of vitamins, minerals and antioxidants that one serve is the nutritional equivalent of 10 cups of green tea.
Directions:
For a delicious,smooth green tea simply mix 1/4 teaspoon of Matcha into hot water. You can also use our Matcha to make smoothies, refreshing iced tea, lattes or desserts!
Ingredients:
100% Pure Green Tea Leaves.
Key Benefits:
GMO Free

Gluten Free

Dairy Free

Suitable for

Vegetarian & Vegans
Certified Japanese Organic
Country of Origin:
Japan
Barcode
0683405832379