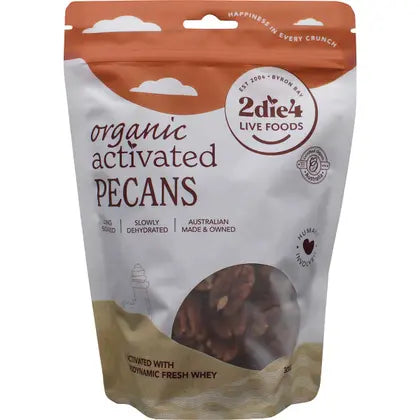 2Die4 Live Foods
2die4 Live Foods Organic Activated Pecans Activated with Fresh Whey 300g
$20.00
$21.00
you save $1.00
The pecan (or as they say in America pea-khan) is a species of hickory, native to Mexico and Southeastern USA. We long soak and slowly dehydrate them at low temperatures, releasing the bioavailability of their vitamins and minerals. We pack our activated organic pecans fresh at our facility in Byron Bay.
Ingredients:
Organic Pecans (99%), Fresh Biodynamic Whey (Milk), Filtered Water, Australian Sea Salt
Key Benefits:
Certified Organic
Gluten Free
Vegetarian 
Barcode:
9340755000124
Specifications:
Made in Byron Bay from Australian Pecans.