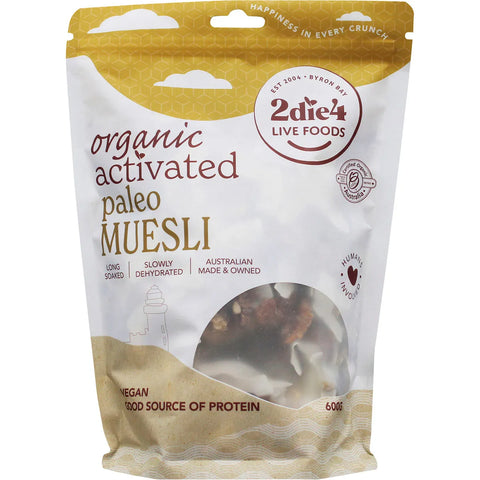 2Die4 Live Foods
2Die4 Live Foods Organic Activated Paleo Muesli 600g
$19.00
$20.00
you save $1.00
Some say the recipe for our activated organic paleo muesli is over 10,000 years old! Try it, and none of that matters. It tastes so good, and that's what really counts. Our activated, organic paleo muesli is a tasty blend of activated organic seeds and nuts, enhanced with cranberries and inca berries and a sprinkle of Australian salt. 
Use:
Perfect served with some fresh fruit and coconut yoghurt!
Ingredients:
Chemical Free Sunflowers, Organic Buckwheat, Organic Sultanas, Organic Pepitas, Organic Almonds, Organic Cashews, Organic Walnuts, Organic Coconut Flakes, Organic Pecans, Organic Chia Seeds, Organic Cranberries, Organic Inca Berries.
Key Benefits:
Certified Organic
Gluten Free
Dairy Free
Vegetarian
Vegan Friendly 
Barcode:
9340755000933
Made in Byron Bay from local and imported ingredients.