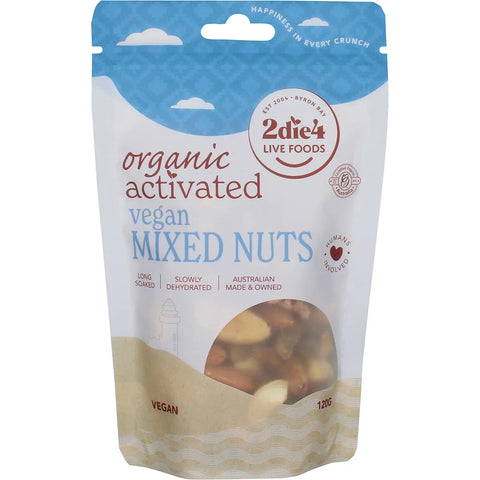 2Die4 Live Foods
2Die4 Live Foods Organic Activated Mixed Nuts Vegan 120g
Created for you to enjoy, a mixed variety of vegan activated, organic nuts. Available in three different sizes, we've selected the very best organic almonds, walnuts, pecans, cashews, brazil nuts, hazelnuts and pistachios and activated them to release the bioavailability of their vitamins and minerals. Then, we pack our activated organic vegan mixed nuts fresh at our facility in Byron Bay.
Use:
Perfect served with some fresh fruit and coconut yoghurt!
Ingredients:
Organic Almonds, Organic Walnuts, Organic Pecans, Organic Cashews, Organic Brazil Nuts, Organic Hazelnuts, Organic Pistachios, Filtered Water, Raw Australian Sea Salt.
Key Benefits:
Certified Organic
Gluten Free
Dairy Free
Vegetarian
Vegan Friendly
 Made in Byron Bay from local and imported ingredients
Barcode
9340755000476