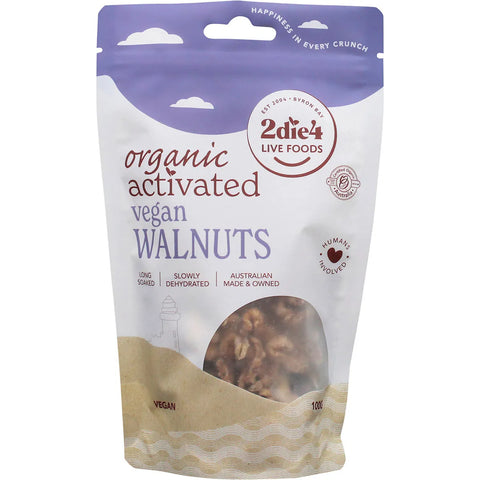 2Die4 Live Foods
2Die4 Live Foods Activated Organic Vegan Walnuts - 100g
$9.00
$10.00
you save $1.00
Walnuts were the first things we activated at 2die4! Our traditional activation process  transforms the taste of walnuts . If you don't like walnuts, these are for you. Walnuts are significantly higher in omega-3 fat than any other nut, add our Activated Organic Vegan Walnuts to your salads, baking, or just snack on them while you're on the go.
Ingredients:
Organic Walnuts, Filtered Water, Raw Australian Sea Salt.
Key Benefits:
Certified Organic
Gluten Free
Dairy Free
Vegetarian
Vegan Friendly 
Barcode:
9340755001268
Specifications:
Made in Byron Bay using walnuts from Bulgaria.