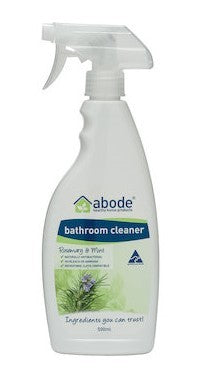 Abode
Abode Bathroom Cleaner Rosemary & Mint 500ml
Abode Natural Bathroom Spray is formulated using naturally derived plant and mineral based ingredients (most of which are food grade). It's unique formulation does away with the cocktail of nasty chemicals found in many traditional brand products such as petrochemical solvents, d-Limonene and LABS acids as well as semi synthetic plant surfactants such as coco betaine or ethoxylated compounds. Our unique anti-bacterial formulation is designed to clean as effectively as supermarket brands whilst ensuring the health of your family is protected.
Our natural bathroom cleaner will amaze you with the power to cut through soap scum, dirt and grime without nasty chemicals, VOCs or overpowering fumes. Fragrance free. Suitable to use with microfibre cloths.
Does not contain ammonia, bleach or d-limonene. Grey water and septic tank safe.Our bathroom cleaner is designed to be effective against mould and grime whilst being free of damaging harsh fumes and VOCs, leaving your house smelling like a home not a hospital!
Ingredients:
Water, alkylpolyglucosides, citric acid, lactic acid, glycolic acid, grain alcohol, essential oils
Key Benefits:
All Natural

GMO Free

High Performance

No Bleach or Ammonia

Microfibre Cloth Compatible
Not Certified Organic
Country of Origin:
Australia
Barcode
9343188000365