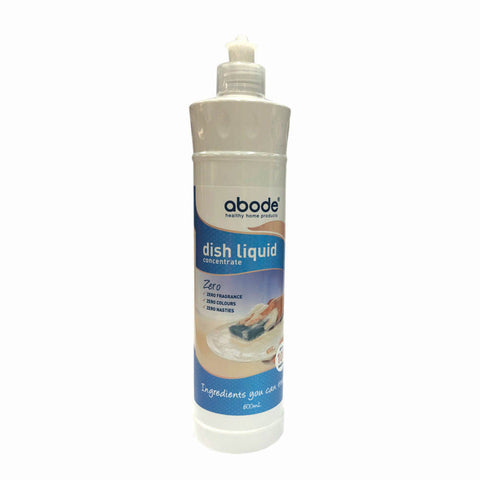 Abode
Abode Dish Liquid Concentrate Zero 500ml
$6.00
$7.00
you save $1.00
Abode Healthy Home Dishwashing Liquid is a great, creamy lathering product that has been formulated to be gentle on your hands and the environment whilst cutting through grease with the power of the leading brands. 
Zero Frangrance, Zero Colours, Zero Nasties.
The unique formulation does away with nasty chemicals such as cocobetaine, sodium lauryl sulphate and ethoxylated ingredients that was designed to leave your dishes sparkling clean with no chemical residue. Ingredients you can trust.
Abode is formulated using the best ingredients money can buy and the concentrated formula makes it remarkably economical when compared to similar brands on the market.
Ingredients:
Water, alkylpolyglucosides (derived from coconut, wheat and corn and found in high end personal care products), sodium coco sulphate (derived from coconut oil), sodium cocoyl isethionate (derived from coconut oil), citric acid (food grade), sodium citrate (food grade), glycine extracts (amino acids) and sodium lactate (food grade).
Key Benefits:
All Natural

GMO Free

High Performance

Non Citrus - D Limonene Free

Microfibre Cloth Compatible

Suitable for Vegetarians
Not Certified Organic
Country of Origin:
Australia
Barcode
9343188000068