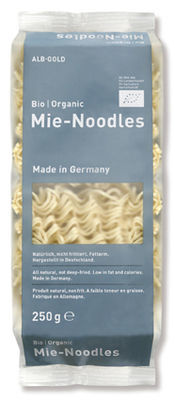 Alb-Gold
Alb-Gold Organic Mie-Noodles 250g
Whether in a wok, a frying pan or saucepan, these Organic Mie-Noodles are a real all rounder and so quick and easy to prepare.
Alb-Gold Mie Noodles are made from Organic ingredients without any additives. They are steam dried unlike most conventional deep fried noodles.
Pure, natural and low in fat, these easy to prepare noodles are ready in just 6 minutes.
Comes in 4 servings.
Ingredients:
Organic wheat flour, salt.
Key Benefits:
Certified Organic

GMO Free

Preservative Free

Yeast Free

Steam Dried, Not Deep Fried

Egg Free

No Added Sugar

Nut Free

Dairy Free

Suitable of Vegetarian & Vegans
Certified by INTL

Country of Origin:
Germany