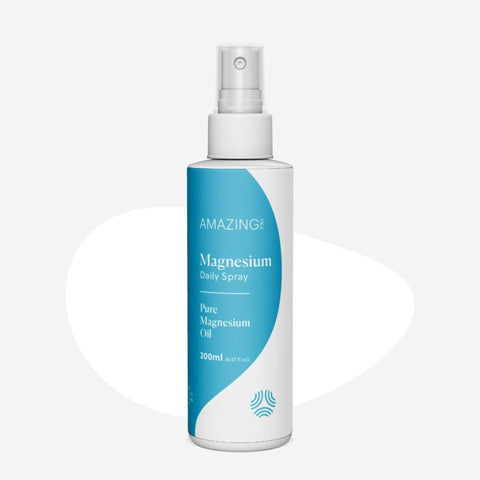 Amazing Oils
Amazing Oils Magnesium Daily Spray Pure Magnesium Oil - 200ml
Magnesium Gel may help the relief of any pain stiffness or tension in the body after spraying Magnesium Oil on the skin.
This actual product is used in hospitals to treat Asthma, Arthritis and Diabetes 2. Nowhere else in the world is it possible to find the guaranteed purity of BFA Organic Certification.
After discovering what Dr Carolyn Dean calls the 'Miracle of Magnesium' for ourselves we set out to find the purest grade of Magnesium Chloride. The only Organically Certified medical quality Magnesium Oil we have found is now available to you.
Basic protocol for all symptoms as well as general health improvement is to spray under armpits and behind the knees.
Headaches/Migraines: Basic protocol plus rub into temples and back of the neck Sore Muscles: Use topically. Rub in. Relief will only take a few minutes.
Insomnia/Restless Legs: Basic protocol twice daily. Use on legs before sleep.
Fibromyalgia/Chronic Fatigue: Basic protocol twice daily plus topically for pain relief.
Colds/Flu/Sore throat: At first signs basic protocol + 2Xspray in half-cup of water. Gargle and swallow.
High Blood Pressure. Basic protocol. Also spray onto chest twice daily and rub in.
Asthmatic Conditions: Same as high blood pressure (above) plus 2Xspray into half-cup water thrice daily.
Facial/Skin Care: Basic protocol plus use directly on skin.
Ingredients: Organically Sourced Magnesium Chloride Liquid.
Key Benefits:
Organic Ingredients

Gluten Free

Dairy Free

Sulphate Free

Suitable for Vegetarians & Vegans
Barcode
9354150000535