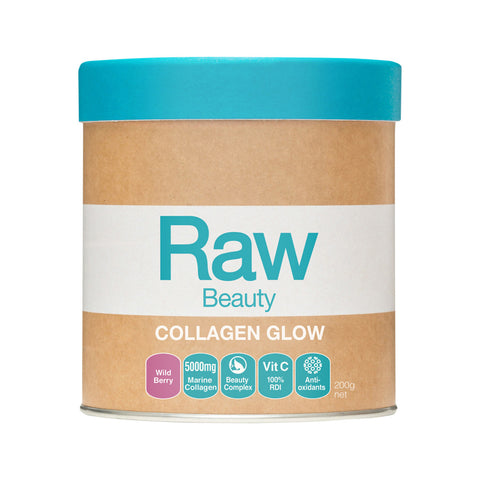 Amazonia
Amazonia Raw Beauty Collagen Glow Wild Berry 200g
We at Amazonia understand that raw, whole nutrition is the foundation for vitality and healing within the body
Developed by doctors, naturopaths, nutritionists and our health fanatic team at Amazonia the raw range is a truly authentic nutritional range. We are so proud to be leading a natural health movement that focuses on what our bodies really need: simple, raw, whole nutrition.
Beautiful, Glowing Skin
Amazonia Raw Collagen Glow is a premium, beauty formula designed to support collagen production, natural connective tissue structure and skin function. With 5000mg of highly bioavailable Type I & II Marine Collagen and 100% RDI Vitamin C per serve, this is the ultimate beauty powder for a radiant complexion.

Making up 75% of our skin and playing an essential protective role in the body, collagen levels start to decrease from our mid-20's onwards. Nourish your skin, hair and digestive system and boost your body's natural collagen formation so you glow from the inside out.
Key Benefits:
Dairy Free
Gluten Free
5000mg Marine Collagen for beautiful, glowing skin
Beauty complex
100% RDI Vitamin C to aid collagen production & support natural skin function
Antioxidant rich
Delicious Wild Berry flavour
Ingredients:
Beauty Blend (Marine Collagen, Organic Sea Buckthorn Juice*, Organic Beetroot*), Natural Sweetener (Erythritol), Organic Jerusalem Artichoke Inulin* [prebiotic], Natural Flavour, Stevia Leaf Extract. *Certified Organic.

No gluten, added sugar, dairy, additives, preservatives, GMO's & synthetics.
Directions:
Mix 9g (1 heaped tablespoon) into 300ml of water, coconut water or liquid of choice. For optimal results, consume 1 serve daily. Also delicious combined into your favourite smoothies, breakfast bowls and raw treats.
Cautions:
Contains fish products.
Excessive consumption may have a laxative effect.
Storage:
Reseal after use.
Store below 25⁰C in a cool, dry and dark place.