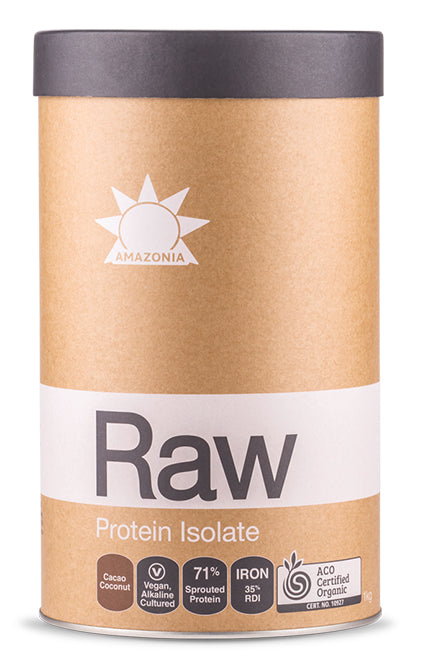 Amazonia
Amazonia Raw Protein Isolate Cacao & Coconut 1kg
$46.00
$52.00
you save $6.00
We at Amazonia understand that raw, whole nutrition is the foundation for vitality and healing within the body
Developed by doctors, naturopaths, nutritionists and our health fanatic team at Amazonia the raw range is a truly authentic nutritional range. We are so proud to be leading a natural health movement that focuses on what our bodies really need: simple, raw, whole nutrition.
Raw protein is a certified organic, dense protein source with bio-fermented live ingredients and natural enzymes. Based on years of research, our blend combines pea and brown rice to provide over 80% raw, digestible protein with a complete amino acid complex. Blending into a smooth texture, this non-dairy protein is gentle on the digestive system, tastes great and works with the body for optimal results.
Why Raw?
Whey, a common protein, is a by-product of the heavily processed cheese industry. Amazonia's Raw, live protein contains no whey, making it a powerful, dairy-free option with high levels of readily absorbed nutrients. It is the rawest form of natural protein to come onto the market.
Health Benefits:
Complete amino acid complex
Alkalising & vegan
Free from wheat, dairy, eggs, soy, GMOs, nuts & low allergen
Low in carbs
Nothing artificial, no synthetic nutrients or minerals
Over 80% raw digestible protein with live enzymes & high levels of BCAA
Bio-fermented live ingredients
Safe & healthy during pregnancy
Ingredients:
Raw Certified Organic Pea Protein (Sprouted, Bio-fermented) and Raw Certified Organic Whole Brown Rice Protein (Sprouted, Bio-fermented), Raw Certified Organic Cacao Bean Powder, Living-Raw Digestive Enzyme Blend (Amylase, Protease, Lipase, Lactase, Cellulase), Certified Raw Organic Mesquite Fruit Pod Powder, Raw Certified Organic Coconut Sugar, Natural Cacao Bean & Coconut Flavour, Stevia Leaf Extract Powder.
Key Benefits:
Certified Organic

GMO Free

Raw

Gluten Free

Dairy Free

Suitable of Vegetarian & Vegans