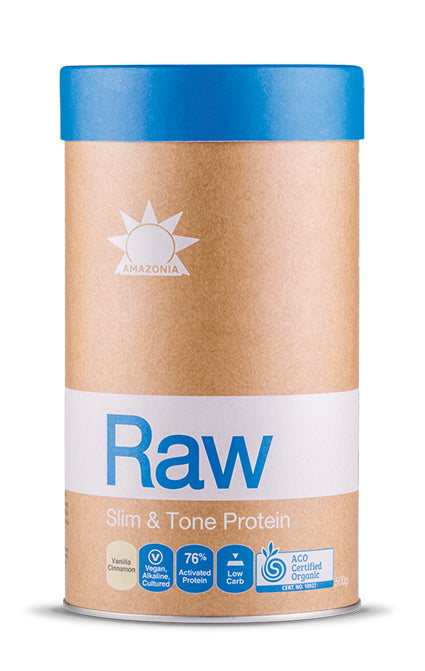 Amazonia
Amazonia Slim and Tone Protein Vanilla & Cinnamon 1kg
$47.00
$51.00
you save $4.00
Amazonia Raw slim & tone protein is a comprehensive protein option designed to support natural, healthy slimming while helping to banish cravings and achieve real results you can feel.

Specifically formulated to assist with healthy weight management by combining a sprouted and bio-fermented protein base with nourishing trace minerals, nutrient-dense herbs, thermogenic spices and alkalising greens, Amazonia Raw slim & tone protein is designed to help keep you satisfied, address the root cause of cravings and assist in healthy, long-term weight management and toning, in combination with healthy eating and exercise.

For additional support we recommend using Amazonia Raw slim & tone protein in combination with the Amazonia Raw sugar crave release and Amazonia Raw pre-probiotics as part of our complete Slim & Tone Plan.
Health Benefits
Delicious creamy taste

Rich in nutrition to help you feel fuller for longer

Sugar free; very low in carbs

Infused with herbs known to boost metabolism

Bio-fermented & live sprouted protein

Designed to help combat bad digestive bacteria

Nothing artificial or synthetic

Dairy, Wheat, Gluten, GMO Soy & free

Certified Organic
Ingredients:
Sprouted Protein Blend 28.3g (Organic Sprouted, Bio-Fermented Golden Pea Protein*, Organic Raw Cacao and Organic Cocoa Bean Blend*, Organic Quinoa*, Organic Sprout Blend*: Organic Amaranth Sprout*, Organic Quinoa Sprout*, Organic Millet Sprout*, Organic Buckwheat Sprout*, Organic Chick Pea Sprout*, Organic Lentil Sprout*, Organic Adzuki Sprout*, Organic Alfalfa Sprout*, Organic Flax Sprout*, Organic Sunflower Sprout*, Organic Pumpkin Sprout*, Organic Chia Sprout*, Organic Sesame Sprout*). Nutrient-dense greens blend 850mg (Natural Sea Mineral Complex, Organic Spinach leaf*, Organic Nettle leaf*, Organic Maca root*, Organic Acai juice*, Organic Nopal cladode*, Lemon juice). Herb & Spice digestive bacteria blend 490mg ( Organic Cinnamon*, Organic Cloves*, Organic Liquorice*, Organic Nutmeg*, Organic Ginger*, Organic Cayenne Pepper*) (Dandelion extract, Siberian Ginseng extract, Aloe Vera extract, Kelp extract, Parsley extract, Rosehip extract, Gingko extract, Gotu Kola extract, Milk Thistle extract). Natural Cacao (Chocolate) and Macadamia Blend 290mg Natural Chocolate Flavour, Stevia, Natural Macadamia flavour. *Certified Organic
Key Benefits:
Certified Organic

GMO Free

Gluten Free

Dairy Free

Suitable of Vegetarian & Vegans