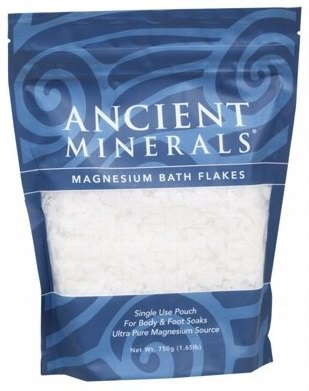 Ancient Minerals
Ancient Minerals Magnesium Flakes 750g
$16.00
$17.00
you save $1.00
Ancient Minerals Magnesium Bath Flakes are the dry flakes of magnesium chloride and other naturally occurring trace minerals, in a convenient and economical form for utilization in baths and foot soaks. Ancient Minerals Magnesium Flakes dissolved in warm water provide the user with a bath of magnesium chloride. Some individuals with sensitive skin may prefer this method of application, rather than the more concentrated Ancient Minerals Magnesium Gel or Magnesium Oil.
Ancient Minerals Magnesium Bath Flakes are also highly effective for healing skin conditions such as psoriasis, eczema, and dermatitis. Soaking in magnesium salts has been shown to markedly improve skin hydration, speed wound healing, enhance skin barrier function, and decrease inflammation.
Ingredients:
Genuine Zechstein magnesium chloride flakes.
One cup contains approximately 15g of elemental magnesium.
Key Benefits:
#1 Most Recommended Magnesium Oil in the World

Rapidly absorbed into the skin

Ideal for children and other sensitive individuals

Effective for stress relief and relaxation

Great for soaking achy muscles and joints

Highly therapeutic for psoriasis, eczema, and other skin conditions

Extensive topical and cosmetic benefits

Approximately 15g elemental magnesium per cup

Gluten Free

Dairy Free

Sulphate Free

Suitable for Vegetarians & Vegans

Not Tested on animals