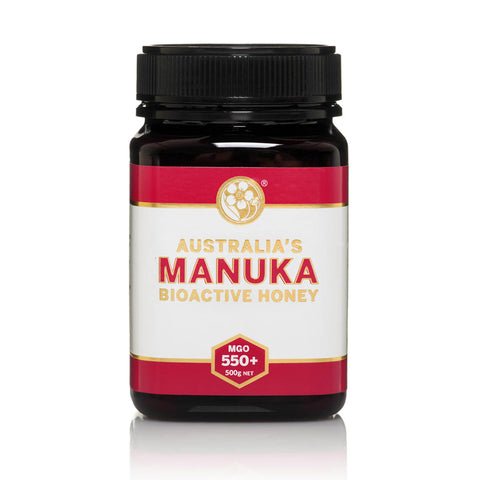 Australia's Manuka
Australia's Manuka Bioactive Honey MGO550+ 500g
$74.00
$84.00
you save $10.00
Australia's Manuka MGO 550+ is a more potent activity to maintain digestive health. MGO 550+ is one of the medium strength honeys. A powerful superfood and prebiotic with strong antibacterial activity, excellent for digestive health. With potent cleansing qualities, this rich velvety and flavoursome honey is great to eat by the teaspoon or in your smoothie, to keep your insides happy and healthy :)
Australia's Manuka MGO 550+ is a popular active honey that acts a prebiotic to help improve your gut biome, which is known to increase immunity. It also used to soothe sore throats… whilst still tasting light, delicate and delicious of course. So, while it is recommended primarily for medicinal use it by no means should be taken out of your everyday breakfast routine.

Manuka honey contains beneficial levels of MGO and a vast array of antioxidants, bioflavonoids, enzymes and natural phenolic compounds that have been used to assist in the treatment of medical conditions since ancient times. The Manuka honey has an anti-inflammatory action that can assist in easing pain and inflammation, as well as antibacterial qualities that increase with the level of MGO present. Australia's Manuka 550+ MGO (NPA 15+) is pure Australian Jellybush honey and has been tested at independent laboratories to guarantee its 550+ MGO rating.

This high potency Manuka Honey is ideally suited for medicinal use. Kept in your medicine cabinet, this exceptional honey has proven benefits when taken internally or applied externally to the skin and can be used to enhance and actively support your body's natural healing processes. Count out Australia's Manuka 550+ MGO for cooking with heat but enjoy it on toast, in your smoothies and by the teaspoon if you want all the goodness in one go.
Ingredients:
100% Pure Australian Leptospermum SP. Honey.
Key Benefits:
GMO Free

High in Antibacterial Activity

Delicious Rich Flavour

Gluten Free

Dairy Free

Vegetarian Friebndly