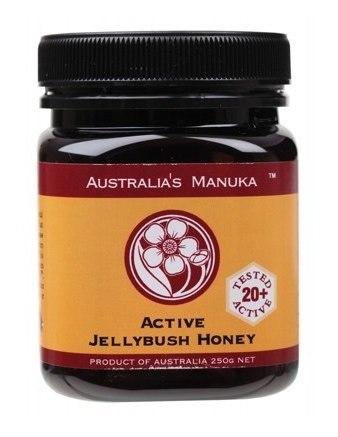 Australia's Manuka
Australia's Manuka Honey Active Jellybush NPA 21+ (MGO800+) 250g
$68.00
$70.00
you save $2.00
The Jellybush tree belongs to the Leptospermum group of plants. There are over 85 known species of Leptospermum with 83 of these species found growing within Australia.
Commonly referred to as Jellybush or Tea tree, the genus Leptospermum is widely distributed in Australia and occupys a variety of habitats from coastal dunes to high mountain areas.
The Active Jellybush Honey we collect comes from Leptospermum trees found growing in the pristine sub tropical coastal forests surrounding Byron Bay on the East Coast of Australia. It has wide distribution, but like Manuka, its New Zealand relative, the activity and strength varies with the locality in which it is found. The strongest and most potent activity is found in North Eastern NSW.
We specialize in harvesting different types of Jellybush Honey all of which are tested at certified laboratories to guarantee that the active properties are present before packaging.
Leptospermum or Jellybush plants are known to produce a unique type of honey that not only has hydrogen peroxide releasing enzymes but also a special phytochemical property called the Unique Leptospermum Factor - ULF not found in other honeys.
The common name 'tea tree' is also given to another Australian group of trees from the Melaleuca genus. It is from Melaleuca plants that the well known tea tree oil is produced. This group of trees, the Malaleucas, have no relation to the Jellybush or Leptospermum group of plants which produce the Active Jellybush Honey.
Ingredients:
100% Pure Australian Honey.
Key Benefits:
GMO Free

High in Antibacterial Activity

Unique Leptospermum Factor 20+ ULF

High in Hydrogen Peroxide releasing enzymes

Laboratory Tested Active 20+ ULF rating

Equivalent to New Zealand's active Manuka

Cold extracted to preserve antimicrobial properties

Delicious Rich Flavour

Gluten Free

Dairy Free

Suitable for Vegetarians