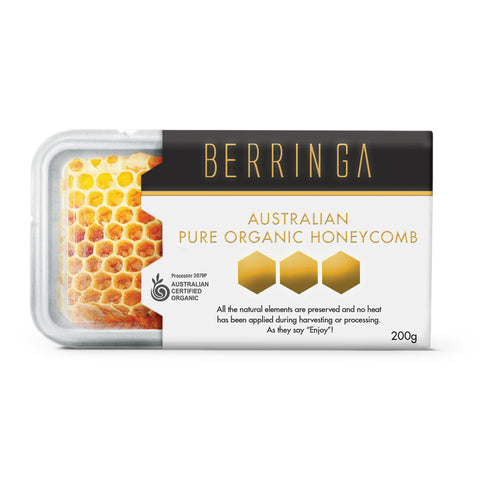 Berringa
Berringa Australian Honeycomb Organic
$21.00
$22.00
you save $1.00
Berringa Honeycomb is a delicious combination of 100% Australian Eucalyptus Honey and Honeycomb packed in a sealed tub. Guaranteed to be Australian Certified Organic (ACO), you can be sure of the purity and superior quality of this product. Delicious and versatile, honeycomb adds a gourmet flair to any meal. It looks great as part of a cheese or antipasto platter, can be broken up and sprinkled onto desserts and breakfast dishes, or simply eaten the same way you would honey from a jar.
Ingredients:
100% Australian Certified Organic Honeycomb and Honey

Pure, natural honey may vary in colour and texture.
Some crystallisation may occur naturally.
May contain naturally occurring dark spots, in the wax comb only.
Key Benefits:
Certified Organic

RAW

Gluten Free

Suitable for Vegetarians
Certified by ACO