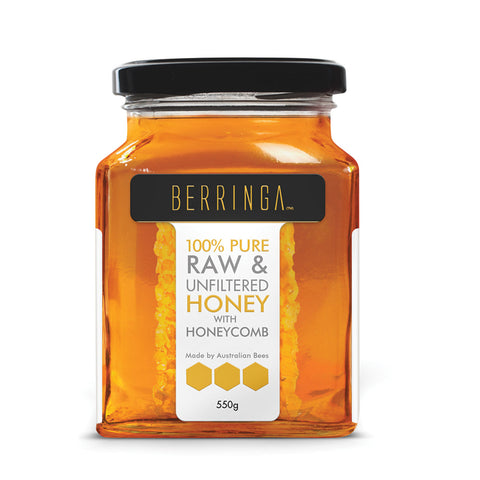 Berringa
Berringa Raw and Unfiltered Honey with Honeycomb 525g
Berringa is an Australian owned company that only sources 100% Australian honey. Berringa believes that high quality Australian honey is unbeatable, from Eucalyptus to "Super Manuka". They are also strong advocates and supporters of sustainable farming and we work closely with beekeepers to ensure good farming practices.

Berringa Honey with Honeycomb is a delicious combination of pure and natural Berringa honeycomb and our golden, delicately sweet Eucalyptus honey. 100% Australian and served in a 550g glass jar, this premium product makes the perfect gift or souvenir.
Ingredients:
100% Australian Natural Eucalyptus Honeycomb and Honey

Pure, natural honey may vary in colour and texture.
Some crystallisation may occur naturally.
May contain naturally occurring dark spots, in the wax comb only.