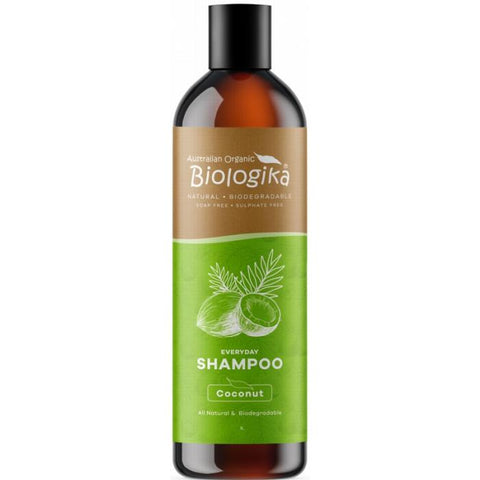 Biologika
Biologika Coconut Everyday Shampoo 1L
Coconut oil has been added for its naturally nourishing properties. It helps in healthy hair growth, provides a shiny glow, and has a conditioning effect whilst helping in the repair of damaged hair. This formula is gentle enough for every day use.
Suitable for all Hair Types. Curly Girl Hair Method Approved.
Ingredients:
Aqua, Guar Hydroxypropyltrimonium, Coco Glucosides, Coconut Fragrant Oil (Cocos Nucifera), Parfum Natural Preservative), Jojoba Oil (Simmondsia Chinesis) Sunflower Oil (Helianthus Annuus) Organic Aloe Vera Extract (Aloe Barbadensis) Organic Olive Leaf Extract (Olea Europaea) Burdock Extract (Articum Lappa) Nettle Extract (Urtica Dioica) Organic Lavender Hydrosol (Lavendula Angustifolia) Potassium Sorbate, Citric Acid.
Key Benefits:
Organic Ingredients

GMO Free

No Parabens

No Sulphate

Grey Water Safe

Cruelty Free

Suitable for Vegetarians & Vegans
Not Certified Organic
Country of Origin:
Austraila
Barcode
656288011858